Above & Beyond
with Spencer Brown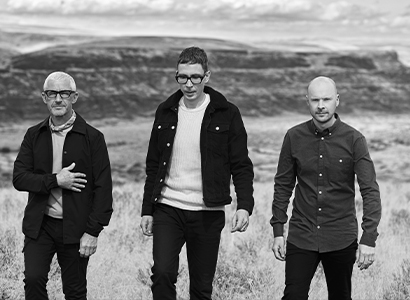 Above & Beyond
with Spencer Brown
| | | |
| --- | --- | --- |
| Doors: | | 8:30 pm |
| Start: | | 9:00 pm |
| Age: | | Ages 21+ Only |
| Price: | | $85 GA / $165 Reserved |
Buy Tickets
Event Information
Genre: trance, electronic, dance
21+ with a valid photo ID.
Reserved seating is available for $175 and guarantees a seat in the reserved section. If necessary groups will be paired together at tables. Seating is based on time of purchase and the configuration of groups.
There is a 4-ticket limit for general admission OR a 6-ticket limit for reserved per customer, credit card or email address. Orders exceeding these limits, or any tickets purchased for resale, may have a portion or all of their orders cancelled without notice.
Above & Beyond
The best moment at ABGT250, Above & Beyond's skyscraping open-air festival staged in front of 23,000 fans at Washington state's Gorge Amphitheatre in September? Ask the three men at the heart of it, you get three different answers.

Paavo Siljamäki: "One day I was having lunch on my own in the winery – I know, a winery! – next to The Gorge and heard these two couples chatting. They didn't know each other beforehand, but as I sat there eavesdropping I realised I was listening to them becoming friends. They'd been drawn together by ABGT250. That was the essence of the weekend for me."

Jono Grant: "I was in a car heading off the site with [singer] Zoë Johnston, and there was a long stream of fans leaving The Gorge. Zoë and I asked the driver to stop the car on a bridge that was above the flowing river of fans, and we got and waved goodbye to them as the walked through the tunnel. Everyone were screaming like crazy and it was a really fun moment. It never ceases to amaze me both how much love and dedication the fans have towards it all."

Tony McGuinness: "Paavo was doing an 11am yoga set and I went with him. So, 2000 people in front of the yoga stage doing the downward dog, then a couple thousand more just enjoying the tunes he was playing, then a six-abreast stream of people in Anjunabeats and Above & Beyond t-shirts walking from the campsite – seeing all that for the first time, and seeing our family, if you like, in broad daylight and bright sunshine, brought home to me the enormity of our community. They were coming together in the spirit of openness and warmth and music. Let's just say I was glad I was wearing sunglasses because, honestly, I was choking up."

Three answers, one unifying theme: for their latest (ad)venture, hosted to mark their 250th Group Therapy radio show, Above & Beyond had crystallised something that lay at the heart of everything they've achieved over their 17 years together. From developing that groundbreaking radio show to touring the world's best clubs and most illustrious venues; from establishing a thriving, multi-artist label to building a peerless catalogue of artist albums; from creating iconic dance anthems to curating soulful acoustic rerubs, one thing stands out.
That is: Above & Beyond have carved out a unique space in music and culture, one that reaches far beyond their electronic roots. In so doing, Jono, Paavo and Tony have created something special: a common ground where all sorts of people and ideas can come together. Celebration, kinship, community – it's the A&B way.

Presenting, then, Common Ground. The trio's fourth electronic album is the follow-up to 2015's Grammy-nominated We Are All We Need, and comes in the wake of sell-out shows at totemic venues ranging from Colorado's Red Rocks Amphitheatre to London's O2. It features a quartet of guest vocalists, a couple of them longstanding members of the family, a couple of them valued newcomers. And it's an album born from everything they've done so far, most recently the glorious Gorge happening and the band's 2016 orchestral tour in support of their second acoustic album.

"We were just absolutely spoiled with every venue on that tour," says a still-buzzing Paavo. "The Sydney Opera House was emotional because that was the end of the whole tour. But I never thought we could do a show at a Broadway theatre, or the Hollywood Bowl or the Royal Albert Hall – the ultimate homecoming gig for any band based in London. It was really the stuff of dreams."

"It was great opportunity to make real in a live band universe – which means a lot to me – everything we've done with Above & Beyond so far," continues Tony. "Us playing keyboards and guitars, and all those live strings and horns, consolidated my fantasy about everything Above & Beyond can and should be."

When it came to writing the songs for their next album, that tour, he adds, had an immediate,
freeing impact.

"The success of the acoustic tour has relaxed us even more in terms of what we can do and what we can use."

Less than 18 months since the end that most recent world tour, and only two months since The Gorge, an energised and invigorated Above & Beyond are already almost ready for their next chapter. The finishing touches are being made to Common Ground in the band's London studio, but the songs are already firmly in place.

An early keeper was the heartfelt, bittersweet Cold Feet, written and recorded with returning vocalist Justine Suissa in Paavo's new studio in his Finnish homeland. "By the end of summer 2016 we had had some really good writing sessions," he explains. "Then Justine came over to Finland in January to write songs with me. We were swimming in a frozen lake, then popping indoors to write a song with a piano and and a mic in this totally isolated place. It was a fantastic place to be creative together."

Beyond that, two teaser tracks have already been rapturously received. First up is the bleak-but-beautiful Tightrope, a big club track that Tony wrote with Martin Longstaff. "I met Marty at Chris Difford's songwriting workshop at Glastonbury a couple years ago. I was just blown away by him." Welcomed into the A&B brood as a guest vocalist, his writing skills were too good an opportunity for the ever-curious band to pass by. "Writing Tightrope together was a fantastic experience, and it just shows a slightly different side to us. It's quite dark but still glorious because of his angelic voice."

Then there's the euphoric My Own Hymn, which features A&B favourite Zoë Johnston. "She's just an absolute thrill to work with," says Paavo, "and to see how her mind works – she's one of the most creative people I know. And that song is really a result of one of these days where we just sit down with some ideas and at the end of the day we have a song."

Tony describes Common Ground's second single as his favourite track on the album. "As well as being this wonderful earth mother to all of us, Zoë has a lovely independent streak. And this song puts into words that feeling that everyone can write their own script if they want to. It has depth and a fantastic inspirational side. We're so lucky to have her in the band."

Now, teeing up the album's January 2018 release – as well as a pair of landmark, turn-of-the-year shows at New York's Barclays Centre and the Los Angeles Convention Centre (followed by a full spring US tour) – comes new single Northern Soul. Tony wrote it in 2014 after the band shot the On A Good Day video in Detroit. He wanted to hymn the qualities of a once great, then neglected and now resurgent heartland American city.

"There's a sense of hope when you go to Detroit now," he notes, "and I knew I wanted to write a song about that."

Less immediately clear was who would be the singer. Exploring all their options, the band tried out (in Tony's estimation) ten singers. All were great in their own ways, but none fitted the bill exactly. Then he had the brainwave of sounding out one of the trio's foundational singers. Richard Bedford was the voice of some of Above & Beyond's cornerstone songs, notably Sun & Moon and Thing Called Love, before going off to do his own thing.

"I just thought, sod it, I'll give him a shout, see if he's up for coming back," relates Tony. He was, and he did, "and it immediately sounded and felt right. He's got one those voices that has a really lovely balance of power and vulnerability. And because he's one of our original singers, it's like he owns the song. It's great to have back in the family."

Bedford's involvement speaks to another dynamic at work on Common Ground. As they approach their 18-years-young birthday, Above & Beyond are refreshing their roots to reach new heights.

As Paavo says, "working with Richard for the first time in ages has that feeling of us looking back at our beginnings – and Northern Soul definitely covers again that happy-sad territory. It sounds like something really old and something really new mixed together."

On Northern Soul, at least, the threesome are coming full circle. But as for the rest of Common Ground? On previous form, it'll showcase Above & Beyond not so much circling as spiralling upwards, outwards and onwards – not least on the not-quite-completed Is It Love (1001) a track which features another brand new vocalist.

"Yeah, Jono sings that," chuckles Tony, "which is something he's never done before. He's very, very critical of his own singing, but in terms of the music he likes to emulate, that Eighties pop thing, his voice is absolutely perfect on this."

"I didn't originally want to sing it, but the guys seemed to like it," begins Jono by way of (humble) explanation. The backstory, he continues, is that the song was always meant to be a vocal track. "But the lovely folk at the offices at Anjunabeats rushed it to release, so it first came out as an instrumental. Musically, it's a mix of synth pop with a strange combo of trance and almost a French disco feel to the crunchy claps in the chorus. I'd put some scratch vocal melody ideas down a long time ago, and then later we came back to it with Tony writing the lyrics to fit the melodies around my original 'it's the same way down' demo lyric. I am a big Eighties synth pop fan," he acknowledges, "so I wanted to do something with that kind of aesthetic."

In its own small way, Is It Love (1001) and its deft, smartly realised vocal left-turn sums up again that A&B way. As Paavo cheerfully puts it in conclusion, "we do get bored quite quickly. When we're busy and creative, we're excited. And we want to remain excited, and that means moving sideways, moving forwards…"

And it means moving towards Common Ground.

Spencer Brown
Based in San Francisco, 24-year-old visionary Spencer Brown creates forward-thinking dance music that defies quick-shifting industry trends, carving his fresh take on the progressive space by creating earworms that incorporate authenticity with accessibility.

After Above & Beyond discovered Spencer through his graceful 2014 debut release "Chalice EP" on Avicii's LE7ELS (garnering over 1.5 million listens), a string of successful EPs on their legendary Anjunabeats label led to his chart-topping iTunes #1 2018 debut album "Illusion of Perfection," presented in a continuous mix. This mix-album journey was Spencer's creative response to the modern era of pumping out saturated radio-edited singles, something from which Spencer shies away. Spencer's darker follow-up, "Windows 95 on Acid EP," was released on deadmau5's mau5trap label and caught the eye of countless techno tastemakers.

Having received diverse DJ & radio support from Avicii, Above & Beyond, Armin van Buuren, Sasha, Pete Tong, Don Diablo, Hardwell, Danny Howard, Adriatique, Paco Osuna, Dubfire, John Digweed, Getter, Seven Lions, Gareth Emery, and more, Spencer continues to showcase the diversity of his productions ranging from house to techno, trance to deep house, all the while encapsulating his unique progressive flow.

Outside of the studio, Spencer is no stranger to the road. After making his live debut at Avicii's 2013 Hollywood Bowl show, Spencer was invited to tour across North America on Avicii's True Tour in stadiums such as Barclay's Center, TD Garden, and Rogers' Centre. This extensive touring was done while studying Electrical & Computer Engineering at the prestigious Duke University, where he graduated with distinction in 2016 after publishing a 47-page thesis on omnidirectional loudspeakers.

With over 10 years of DJing under his belt, Spencer's live brilliance is rooted in his renovation of the classical ideology focusing on reading the room and defiance of premade sets to create an unparalleled journey mostly comprised of his original material. Following up his opening for Above & Beyond's colossal 2018 Common Ground tour (in venues such as the LA Convention Center), Spencer embarked on his own mammoth international headline "Illusion of Perfection" tour to support his mixalbum, packed with 3 to 6 hour sold-out extended and open-to-close marathon sets. After proving himself on the previous North American Above & Beyond tour, they invited him to join for the entirety of both their Australian and European tours to finish off 2018.

His passionate, ever-growing fanbase has opened the door to playing at top festivals around the world, such as Tomorrowland Belgium, EDC Las Vegas, Electric Zoo NYC, Global Dance Denver, Ile Soniq Montreal, Dreams Fest Toronto, Electric Festival Helsinki, Creamfields UK, and many more. In addition to the festival circuit, Spencer has been invited to play some of the most renowned clubs in the world, such as Output Brooklyn, Echostage DC, Space Miami, and Hï Ibiza (invited by Armin van Buuren).

Spencer recently launched a new concept of parties called "Extended Sunsets," where he plays open-air extended sets beginning a couple hours before sunset and playing into the darkness, creating an organic experience in harmony with the beauty nature. In the future, these parties may be held on rooftops, in forests, on beaches, or anywhere else with a beautiful sunset backdrop. The first installment, held at Hotel Via Rooftop in San Francisco, completely sold out in 4 hours.

Spencer's relentless work ethic and production prolificacy, crystal clear vision, extensive A-List DJ support, and forward thinking compositions forecast a breakthrough as he continues to deliver ambitious performances that can stand the test of time.