An Evening with Justin Hayward of The Moody Blues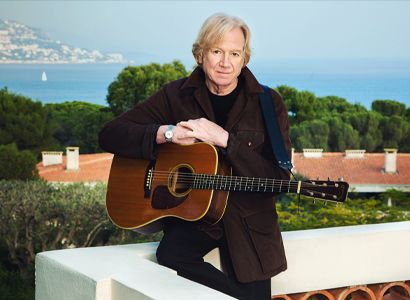 An Evening with Justin Hayward of The Moody Blues
| | | |
| --- | --- | --- |
| Doors: | | 7:00 pm |
| Start: | | 8:00 pm |
| Age: | | All ages |
| Price: | | $50 GA / $95 Reserved |
Rock and Roll Hall of Famer Justin Hayward of The Moody Blues.
Buy Tickets
Event Information
Genre: Rock, Folk Rock
ALL AGES: 18+ with valid photo ID. Under 18 must be accompanied by a parent or guardian.
Reserved seating is available for $95 and guarantees a seat in the reserved section. If necessary groups will be paired together at tables. Seating is based on time of purchase and the configuration of groups.
There is a ticket limit of 4 GA OR 6 RESERVED per customer based on address, credit card, email address, or other information. Multiple accounts may not be used to exceed these ticket limits. Limits for each show may vary and are listed on the individual show purchase page.
Digital Delivery is only valid if purchased from Belly Up, Aspen. Do not purchase Digital Delivery from unauthorized sources as they may be lost, stolen or counterfeit, and if so, are VOID. Additionally, we may be unable to verify that tickets purchased from third parties are valid and in such case, you may not be permitted entrance to the show. Remember, there are no exchanges or refunds.
DIGITAL DELIVERY OF TICKETS WILL BE ON A DELAY FOR THIS SHOW and will be emailed to the address you provided prior to the show date, typically within a week of the show, but may be as late as the day prior. You will receive an individual email for each ticket purchased with your ticket attached. Each ticket must be readily available on your phone or printed and brought to the event. All WILL CALL tickets will be released to the original buyer or authorized transferee only upon presentation of a valid picture ID.
Orders exceeding published limits, or any tickets purchased for resale, or the resale or attempted resale of any ticket at a price greater than face value is a violation of our ticketing policy and we may cancel a portion or all of such orders without notice. Ticketing violations may result in the prohibition of future ticket purchases. In each such case, service fees charged for the purchase of tickets may be retained by Belly Up, Aspen.
Supporting acts may be changed or cancelled without notice, however such change or cancellation is not grounds for refunds.
Justin Hayward
Having chalked up nearly fifty years at the peak of the music and entertainment industry, Justin Hayward's voice has been heard the world over. Known principally as the vocalist, lead guitarist and composer for the Moody Blues, his is an enduring talent that has helped to define the times in which he worked. Over the last forty-five years the band has sold fifty five million albums and received numerous awards. Commercial success has gone hand in hand with critical acclaim, The Moody Blues are renowned the world over as innovators and trail blazers who have influenced any number of fellow artists. Justin is honoured with the Moody Blues on the Rock Walk Hall of Fame on Sunset Boulevard.

Born and brought up in Swindon in the UK, Justin's interest in music started early when he was five years old and his grandfather bequeathed him his large collection of 78 rpm recordings. "It opened a world of imagination to me," says Justin. Having taught himself to play the ukulele, he soon progressed to guitar and by his early teens he was playing in local groups. Upon leaving school at 17 he answered an advertisement in Melody Maker newspaper and successfully auditioned for UK Rock and Roll hero Marty Wilde. "I got the job playing guitar for Marty – it was a dream come true for me". Justin credits Marty with encouraging him to become a songwriter; he made several recordings with Marty's 'Wilde Three' and also appeared with them at the London Palladium. They remain close friends to this day: "Marty is still my hero".

Having started the ball rolling as a songwriter in his own right with a couple of solo singles, he joined the Moody Blues in the summer of 1966. Hitting his stride immediately with the single 'Fly Me High', he followed it up with the classic hit songs 'Nights in White Satin' and 'Tuesday Afternoon' from the seminal album 'Days of Future Past'. This album went on to become a favourite of the NASA astronauts and was taken aboard the Atlantis shuttle space craft by Chief astronaut "Hoot" Gibson on many missions.

This purple patch showed no sign of abating as Justin created other classic, era and genre-defining hits 'Question', 'The Voice', 'I Know You're Out There Somewhere' and 'Your Wildest Dreams'. These laid the foundation for the incredible success story of the Moody Blues – as well as his solo work – which continues to this day.

When the Moody Blues took a break from touring in 1975, Justin worked on the Blue Jays album, followed by the hit single 'Blue Guitar' (recorded with the members of 10cc). Although the Moodies continued to record and tour at the highest level, Justin also found time to create several solo albums: 'Songwriter', 'Night Flight', 'Moving Mountains' and 'The View From the Hill'.

Proving that he could write massive hits outside of the Moody Blues, Justin hit the Top Ten globally in 1978 with 'Forever Autumn' – created for Jeff Wayne's 'War of the Worlds' album. Becoming, even for a writer of his stature, a signature song, this was the spur to him taking to the stage – for five years, from 2005 – 2010, and starring in the spectacular live stadium production.

In the 1980s he was made a member of the famous 'SODS' (The Society of Distinguished Songwriters) and in 2012 he was elected 'King SOD'. He also collaborated in 1989 with Mike Batt and the London Philharmonic Orchestra and recorded the album 'Classic Blue'.

In March 1997 Justin was chosen as the subject for the TV show 'This Is Your Life' in the presence of many of his friends including Marty Wilde, Lionel Bart and astronaut "Hoot" Gibson.

In 2005 he was presented with 'The Golden Note' award from ASCAP, the top honour for a British writer, and he has appeared in Nashville regularly with other songwriters in showcase events. In 2013 The Performing Rights Society in the UK awarded him his second Ivor Novello statue for 'Outstanding Achievement'.

Whilst releasing solo albums and DVDs and working on many different projects, including new solo recordings, Justin continues to tour with the Moody Blues all across the world. Justin records in Italy and France of which he says, "Spending time making music in a beautiful place with your friends is every songwriter's dream". His latest album of new songs 'Spirits Of The Western Sky' – for Eagle Rock – was followed by several solo tours, and most recently a 'live in concert' DVD 'Spirits…Live', which reached No1 on the Billboard Video chart. "My acoustic solo tours give the perfect balance to the big production of the Moody Blues concerts. I'm so lucky to have both". His live solo show is currently being shown all over the USA on PBS TV.

He is consistently touring the globe with The Moody Blues, and as a solo artist – accompanied by Julie Ragins, and Mike Dawes, one of a new generation of young exceptional and gifted guitar players.

"I have spent most of my life, so far, on the road", says Justin. "Playing live and creating a small piece of magic in a room is like a drug to me, one that I never want to give up". His is a talent that has helped soundtrack more than a generation and created a legacy that remains undimmed.