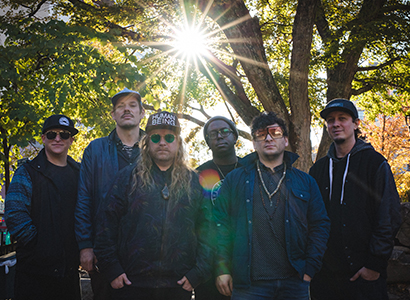 An Evening with Lettuce
| | | |
| --- | --- | --- |
| Doors: | | 8:00 pm |
| Start: | | 9:00 pm |
| Age: | | All ages |
| Price: | | $36 GA / $56 Reserved |
Buy Tickets
Event Information
Genre: Funk, Jam
ALL AGES: 18+ with valid photo ID.
Under 18 must be accompanied by a parent or guardian.
Reserved seating is available for $56 and guarantees a seat in the reserved section. If necessary groups will be paired together at tables. Seating is based on time of purchase and the configuration of groups.
There is a 4-ticket limit for general admission OR a 6-ticket limit for reserved per customer, credit card or email address. Orders exceeding these limits, or any tickets purchased for resale, may have a portion or all of their orders cancelled without notice.
Pre-sale: Thursday, November 8th @ 2:00PM MST
Public onsale: Friday, November 9th @ 10:00AM MST
Lettuce
Known for their incendiary live shows, extensive touring, die-hard fans, and massive two-decade career, Lettuce have brought a new vitality to classic funk, matching their smooth and soulful grooves with a hip-hop-inspired urgency. Their latest offering, Witches Stew [Lettuce Records] is a contemporary jazz fusion album that pays tribute to the late Miles Davis, one of Lettuce's biggest and most beloved influences. An interpretive take on the historically experimental and lauded Bitches Brew era, Witches Stew is a collection of seven songs, handpicked by the band and was recorded at the 2016 Catskill Chill in Lakewood, PA. Released on Halloween Day 2017, the EP brings forth an eerie, ethereal, and psychedelic reimagining to what was one of the most impactful periods in Miles' legacy, further distinguishing the band for their technical mastery and improvisational, rhythmic genius.

To further pay tribute to their hero, Lettuce released the first single from the EP "Shhh / Peaceful" on the 26th anniversary of Miles' passing. Keeping tempo with steady percussion, the track features an otherworldly sound which is echoed by distant horns and tranquil guitar riffs. As a whole the album seamlessly floats from track to track, almost as if telling a story in a language unique to each listener. Taking cue from Miles himself, the brassy crooning of the trumpet threads together each song into a cohesive body of work and brings the listener on a journey that only Lettuce could navigate.

Comprised of a stellar group musicians - Drummer Adam Deitch, guitarist Adam Smirnoff, bassist Erick "Jesus" Coomes, keyboardist and vocalist Nigel Hall, saxophonist Ryan Zoidis, and trumpet player Eric "Benny" Bloom - the members of Lettuce are highly sought after musicians who, together, continue to earn their name as masters of their craft. Blending together these talents in a sound distinctly their own, they have garnered praised by the likes of New York Times, NPR, Billboard, Consequence of Sound, Relix, Red Bull Music and more.

According to the band, it is a sense of unity and togetherness that has much to do with the camaraderie that's only intensified over the lifespan of the band. Formed in 1992, when several band members attended a summer program at Boston's Berklee College of Music as teenagers, Lettuce was founded on a shared love of legendary funk artists like Earth, Wind & Fire and Tower of Power. After returning to Berklee as undergrads in 1994, Lettuce started playing in local clubs and steadily built up a following that soon extended to cities across the country and then throughout the world. Releasing their studio debut Outta Here in 2002, its follow-up Rage! in 2009, Fly in 2012, Crush in 2015 and Mt. Crushmore EP in 2016, the band has dedicated their time to balancing their prolific touring with involvement in a host of other musical endeavors.

In recent years, Lettuce have watched their fanbase expand as they've hit bigger and bigger stages. Selling out shows across the country, they have truly earned their name as a can't-miss live act. As bass player Erick "Jesus" Coomes puts it, "some of these shows we've played over the past couple years have been so amazing, it's like you go home a different person."

The band is currently spreading their sonic hijinks and soulful vibrations across the country on their Beyond the Clouds 2018 headline tour. Comprised of 23-dates, the tour will lead the band to their third annual Rage Rocks show, which will take place at the historic Red Rocks Amphitheatre on Friday, June 8, 2018. A beloved tradition by the band and their fans alike, this will mark Lettuce's fifth time playing at the venue.