Break Science
with FunkStatik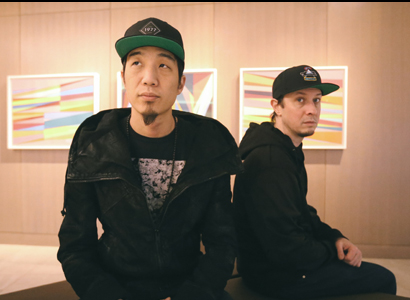 Break Science
with FunkStatik
| | | |
| --- | --- | --- |
| Doors: | | 8:30 pm |
| Start: | | 9:00 pm |
| Age: | | Ages 18+ Only |
| Price: | | $15 GA / $15 (Under 21 $5 surcharge) GA |
Buy Tickets
Event Information
Genre: electronic, break beats
ALL AGES: 18+ with valid photo ID
$5 surcharge for under 21.
There is a 6-ticket limit per customer, credit card or email address. Orders exceeding these limits, or any tickets purchased for resale, may have a portion or all of their orders cancelled without notice.
Break Science
Pioneers of Colorado's electronic music explosion, Break Science soars ahead of the curve, with a decade-plus trendsetting the game. Steeped in filial traditions of East Coast hip hop, and futuristic soundwaves of the now, the Denver-based duo continues to scale creative mountains. Comprised of keyboardist/producer/jazz pianist Borahm Lee (Pretty Lights Live Band) and funk/hip-hop drummer extraordinaire Adam Deitch (Lettuce), Break Science traces roots to the embryonic seeds that flowered the electro-soul movement. The pair have consistently ascended the cutting edge of live dance music culture with an array of blistering live performances in any number of settings or configurations.

Borahm Lee's masterful use of Ableton Live and prowess atop an assortment of analog synths, Fender Rhodes, and digital plug-ins propel Break Science's towards the new frontier. Lee has worked with cultural icons like Kanye West and The Fugees, he is well versed in reggae/dub vibrations. Adam Deitch keeps it thorough with classic boom-bap, and inventive patterns that employ his rhythmic wizardry, be it electronic drum programming or a traditional trap-kit. Deitch has worked with hip-hop legends like Redman, Pharoahe Monch and members of the Wu-Tang Clan, he's manned the drum seat for jazz luminaries like John Scofield (Uberjam). Both members of Break Science bring classic hip-hop, dub, drum n' bass, dancehall, jazz, funk, and genre-defying elements to coalesce in modern electronic soundscapes.

The sum of these parts has evolved Break Science into an amalgam of styles authentic, and an artistic aesthetic wholly their own, heard in the highest of definition on their titanic 2018 full-length LP Grid of Souls. For ever-further explorations in sound, the duo will form like Voltron, combining with several members of Lettuce for the wildly-kinetic Break Science Live Band. Whether the essential dynamic duo or a full-fledged ensemble, they continue to break down the science & move the arena, one gridlocked soul at a time.
FunkStatik
Relocating to the Denver music scene back in 2014 from Omaha to further his music career, FunkStatik is no stranger to the grind. He immediately dove into the growing music scene to produce his first release, 'Living On The Edge' in 2016. Since, FunkStatik has continued to stack his successes as more and more opportunities reveal themselves in 2019. Releasing an album each year since his debut, the producer has built quite the stealthy catalog through Denver collective Mile High Sound Movement Records.

With a proclivity for sultry synths, penetrating vocals and uptempo percussions, FunkStatik has the ability to move every single body in a packed out room. Digging through his electronic vault of sound you will hear several influences throughout his body of work. You're just as likely to discover hints of industrial-esque bass to crunchy rhythms and upbeat arpeggios - FunkStatik executes multiple genres with precision. On his 2018 album, 'Light the Way', the track 'Keep It Cool' sees the producer dipping into hip-hop as well, and it's a buttery union - his tight focus on production allows him to sonically shift from sound to sound seamlessly.

Showcasing his affinity for breaking new ground in the music realm, FunkStatik has a keen sense of how to make people dance, and each track is made to bring parties to life. Set to perform at major festivals this year like Electric Forest, Backwoods, Sonic Bloom and One Vibration, FunkStatik will continue this diligence well into 2019 with more releases and appearances on the festival circuit to come.