Dr. Dog
with Opening Act TBA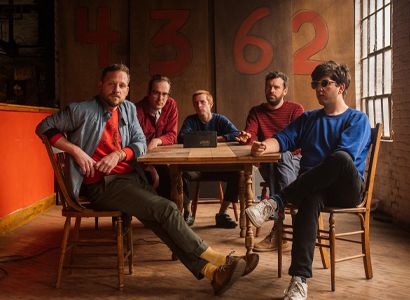 Dr. Dog
with Opening Act TBA
| | | |
| --- | --- | --- |
| Doors: | | 7:30 pm |
| Start: | | 8:30 pm |
| Age: | | All ages |
| Price: | | $38 GA / $70 Reserved |
Indie rock band whose most recent album, Critical Equation, peaked at #4 on Billboard's Independent Albums chart.
Buy Tickets
Event Information
Genre: Indie, Lo-Fi, Psychedelic
Rock ALL AGES: 18+ with valid photo ID. Under 18 must be accompanied by a parent or guardian.
Reserved seating is available for $70 and guarantees a seat in the reserved section. If necessary groups will be paired together at tables. Seating is based on time of purchase and the configuration of groups.
There is a ticket limit of 6 GA OR 6 RESERVED per customer based on address, credit card, email address, or other information. Multiple accounts may not be used to exceed these ticket limits. Limits for each show may vary and are listed on the individual show purchase page.
Digital Delivery is only valid if purchased from Belly Up, Aspen. Do not purchase Digital Delivery from unauthorized sources as they may be lost, stolen or counterfeit, and if so, are VOID. Additionally, we may be unable to verify that tickets purchased from third parties are valid and in such case, you may not be permitted entrance to the show. Remember, there are no exchanges or refunds.
DIGITAL DELIVERY OF TICKETS WILL BE ON A DELAY FOR THIS SHOW and will be emailed to the address you provided prior to the show date, typically within a week of the show, but may be as late as the day prior. You will receive an individual email for each ticket purchased with your ticket attached. Each ticket must be readily available on your phone or printed and brought to the event. All WILL CALL tickets will be released to the original buyer or authorized transferee only upon presentation of a valid picture ID.
Orders exceeding published limits, or any tickets purchased for resale, or the resale or attempted resale of any ticket at a price greater than face value is a violation of our ticketing policy and we may cancel a portion or all of such orders without notice. Ticketing violations may result in the prohibition of future ticket purchases. In each such case, service fees charged for the purchase of tickets may be retained by Belly Up, Aspen.
Supporting acts may be changed or cancelled without notice, however such change or cancellation is not grounds for refunds.
Dr. Dog
"I feel like I'm in a totally new band right now," says Dr. Dog guitarist/singer Scott McMicken. It's a bold declaration considering he's been co-fronting the beloved indie outfit for a decade-and-a-half, but it cuts straight to the heart of the intense and transformative experience behind the group's brilliant new album, 'Critical Equation.' The most infectious and adventurous collection Dr. Dog has laid to tape yet, the record was born from a journey of doubt and discovery, a heavy, sometimes painful reckoning that ultimately brought the band closer together with more strength and clarity than ever before. Call it an existential awakening, call it a dark night of the soul, whatever it was, it fueled one of the most fertile creative periods in the group's history and forced them to confront that timeless question: what do we really want?

"We'd been touring and making records for our entire adult lives, and I think we just needed to take a step back," reflects bassist/singer Toby Leaman, who splits fronting and songwriting duties with McMicken. "It was important for all of us to figure out if we were actually doing what we wanted to be doing, or if we were just letting momentum carry us down this path we'd always been on."

The path to 'Critical Equation' was an unusual one for the Philadelphia five-piece (McMicken, Leaman, guitarist Frank McElroy, keyboardist Zach Miller, and drummer Eric Slick), and it stretches all the way back to 2014, when the band completed work on an album titled 'Abandoned Mansion.' Instead of releasing the record the following year as planned, they temporarily shelved it in favor of an opportunity to partner with the celebrated Pig Iron Theatre Company on a reimagining of 'The Psychedelic Swamp,' a long lost McMicken-Leaman collaboration that actually predated Dr. Dog's debut album. The resulting theatrical/concert performance premiered at the Philly Fringe Festival, and the accompanying LP earned rave reviews, with NPR hailing it as "a concept album that wanders and sprawls to absorbing effect" and Under The Radar swooning for its "unmistakably sublime harmonies." Despite representing something of a Rosetta Stone for Dr. Dog, the album also marked a major departure, with elaborate production and experimental arrangements that broke from the simpler, more emotionally direct studio sound they'd been gravitating towards over the years. Rather than the start of a new chapter, 'The Psychedelic Swamp' seemed to symbolize the closing of a circle, which made it an ideal catalyst for some serious soul searching.

"We were all really satisfied to close 14 years of history by finally revisiting 'The Psychedelic Swamp' and giving it our full attention," says McMicken, "but I think stepping out of our natural evolution definitely taxed us. We decided we should put 'Abandoned Mansion' out and just go our separate ways for six or seven months."

They released the album with little fanfare, posting it to Bandcamp as a benefit for the Southern Poverty Law Center and walking away without any touring or press for a much–needed break. That time apart proved to be invaluable, as it offered each bandmember the opportunity to reflect and reevaluate, to challenge and confront their conceptions of the group and its possibilities, to ask the hard questions of themselves and each other. They'd achieved remarkable success—multiple Top 50 albums; television performances on Letterman, Fallon, Conan, and more; critical acclaim everywhere from the NY Times to Rolling Stone; massive festival appearances around the world; major tours with the likes of My Morning Jacket, M Ward, and The Lumineers; countless sold-out headline shows—but none of it mattered if they couldn't answer that nagging question: what do we really want?

Some bandmembers used the break to grow their families, others to explore different artistic avenues. McMicken and Leaman each penned a mountain of songs on their own, inspired by the liberty of writing without expectation or responsibility. When the band finally reunited to begin work on 'Critical Equation,' they did so with fresh perspective. The distance had ironically brought them closer together, helping them learn to communicate in more honest and open ways. As they worked through the challenges and growing pains inherent in rewiring the foundation of any relationship, they found themselves more excited and inspired than ever before.

"We had to tear it apart in order to rebuild it," explains McMicken. "At first, we'd just tiptoe into things and gently peel back a layer, but once we'd peeled back that layer, we'd find that we'd accessed an even deeper layer, and again and again. Eventually we got to the deepest, most honest part of ourselves."

Typically, Dr. Dog would record themselves in their own studio, but one of the revelations from their break was that that brand of insularity had begun to feel more limiting than empowering. With that in mind, they packed their bags and headed to LA to record 'Critical Equation' with producer/engineer Gus Seyffert (Beck, Michael Kiwanuka), who served as something of a group therapist, whether he knew it or not.

"One of the big conclusions we came to was that we've got to blow this whole scene open," explains Leaman. "We needed somebody to be the boss, somebody to be in charge of us in the studio. It's not the way we've ever worked before, but we really trusted Gus."

One listen to 'Critical Equation' and it's clear that the decision paid off in spades. Recorded to 16-track analog tape, the album opens with the equally lilting and ominous "Listening In," a track which pairs Dr. Dog's signature blend of quirky 60's pop and fuzzy 70's rock with Seyffert's willingness to tear their songs wide open. On "Go Out Fighting," a vintage Hammond organ gives way to blistering electric guitar as McMicken sings a mantra of perseverance, while the dreamy "Buzzing In The Light" finds Leaman contemplating the mysteries of universe with gorgeously layered harmonies, and the slow-burning title track strips away everything but the vitality of the band's live show in its rawest form.

"The take on the record was our first take in the studio," says McMicken. "When we finished playing the song, everybody could feel that something special just happened."

Despite the weighty self-reflection that led to its creation, 'Critical Equation' is perhaps the most playful entry in the Dr. Dog catalog. Even tracks that grapple with heartbreak—like the utterly contagious "True Love" and insanely catchy "Heart Killer"—are full of joy and humor, while the shuffling "Under The Wheels" finds a freedom and a lightness in surrendering to forces outside of your control. The record closes on a note of pure optimism with "Coming Out Of The Darkness," a song McMicken wrote at the end of the band's break, just as they were first beginning to discuss the future.

"It's singular among all the songs I've ever written because it's completely functional," he explains. "It exists to take you from wherever you are and leave you somewhere better, and that felt poetically perfect for this phase of the band."

In the end, it turns out that what the group really wanted was fairly simple: to make music that they loved with their friends, and to have fun doing it. Sometimes the simplest things can become more complicated than we ever imagined, but the band's journey here proves that they're always worth fighting for. It's a rare thing to be able to say in this life, but with 'Critical Equation,' Dr. Dog got exactly what they wanted and a whole lot more.