Gary Clark Jr.
with Los Coasts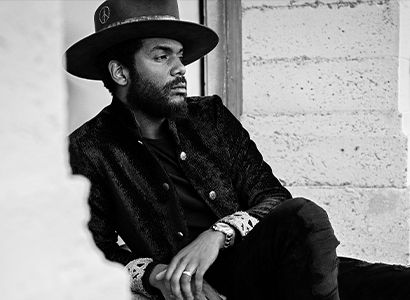 Gary Clark Jr.
with Los Coasts
| | | |
| --- | --- | --- |
| Doors: | | 7:00 pm |
| Start: | | 8:00 pm |
| Age: | | All ages |
| Price: | | $104 GA / $150 VIP Guitar Package GA / $264 Reserved |
Sold Out
Event Information
Genre: Blues, Rock
Every ticket purchased online for Gary Clark Jr. includes your choice of a CD or digital copy of the new album, This Land, released 2/22/19. You'll receive instructions via email on how to redeem your album after ticket purchase.
Gary Clark Jr. VIP Guitar Package
One GA Ticket
Priority entry into venue
One GCJ 2019 guitar accessory pack Including:


One GCJ pouch


One limited edition GCJ custom D'Addario string set


One GCJ capo


One set of GCJ stickers


One set of GCJ picks


One GCJ VIP wristband


First access merch shopping


ALL AGES: 18+ with valid photo ID. Under 18 must be accompanied by a parent or guardian.
Reserved seating is available for $264 and guarantees a seat in the reserved section. If necessary groups will be paired together at tables. Seating is based on time of purchase and the configuration of groups.
There is a ticket limit of 4 GA OR 6 RESERVED per customer based on address, credit card, email address, or other information. Multiple accounts may not be used to exceed these ticket limits. Limits for each show may vary and are listed on the individual show purchase page.
Digital Delivery is only valid if purchased from Belly Up, Aspen. Do not purchase Digital Delivery from unauthorized sources as they may be lost, stolen or counterfeit, and if so, are VOID. Additionally, we may be unable to verify that tickets purchased from third parties are valid and in such case, you may not be permitted entrance to the show. Remember, there are no exchanges or refunds.
DIGITIAL DELIVERY OF TICKETS WILL BE ON A DELAY FOR THIS SHOW, and will be emailed to the address you provided prior to the show date, typically within a week of the show, but may be as late as the day prior. This gives us the ability to monitor for purchases which may not adhere to our ticket policies. You will receive an individual email for each ticket purchased with your ticket attached. Each ticket must be readily available on your phone or printed and brought to the event. All WILL CALL tickets will be released to the original buyer or authorized transferee only upon presentation of a valid picture ID.
Orders exceeding published limits, or any tickets purchased for resale, or the resale or attempted resale of any ticket at a price greater than face value is a violation of our ticketing policy and we may cancel a portion or all of such orders without notice. Ticketing violations may result in the prohibition of future ticket purchases. In each such case, service fees charged for the purchase of tickets may be retained by Belly Up, Aspen. We reserve the right to change the delivery method from Digital Delivery to Will Call for release on the night of the show.
Supporting acts may be changed or cancelled without notice, however such change or cancellation is not grounds for refunds.
Gary Clark Jr.
On the title track of "This Land," Gary Clark Jr. is staking his claim to a literal place on the map, settling in and declaring: "I told you there goes the neighborhood… This is mine now, legit." It's a song with real-life roots in how Clark and his family have traded up in turf in his native Texas and been met with some suspicious glances upon move-in. And if it sounds like he's had some practice in defiantly ignoring expectations about where he ought to live, well, that's something he's been doing musically his whole life. He's a rock-and-soul omnivore who can survey the entire landscape of American music — not just the blues with which he's so often associated, but reggae, punk, R&B and hip-hop, too — and say: This land was made for you and me.

He owns it all on This Land, his third studio album for Warner Bros. Records, which is sure to be seen as a breakthrough in establishing just how much stylistic variation Clark has at his command. There are plenty of the guitar-hero sounds that have already established him as a headliner, with tunes that reiterate that Cream influences always rise to the top, from a guy who's long since come to be considered by Clapton as a friend and contemporary, not just acolyte. But if a lot of fans would consider Clark the closest thing we have to a modern Hendrix, what comes through implicitly in This Land is the sense of just how much Jimi loved and borrowed from Curtis Mayfield. You can think of Clark as one of the last of the real rock gods, along with fellow master singer/guitarists like Jack White, John Mayer, or the late, great Prince and the new album certainly won't do anything to diminish that perception. But This Land is also a great soul record — one in which it's easy to hear the lineage that connects Muddy Waters and Childish Gambino, with distinct nods to Marvin Gaye somewhere in the middle.

You'll hear strains of Gaye not just in Clark using his falsetto more than he ever has before. It's in the mixture of social consciousness and sensuality that was a matter of course for records like "What's Goin' On"… not to mention "Sign O' the Times." Obviously you hear the awareness of what's goin' on in the song This Land itself, in which Clark finds himself "paranoid and pissed off" among well-heeled neighbors who "think I'm up to something" just because his family doesn't fit the local demographics. The attention to the greater good also informs "What About Us," which has Clark announces that "the young bloods are taking over" — something he says to a fictional figure who recurs in several songs, "Mr. Williams," a guy who could be a past-his-prime neighborhood boss… or, who knows, a stand-in for some bigger political figure who also has to go. "Feed the Babies" brings in the brass to augment a call for understanding that's a pleading, purposeful antidote to the raw nerves of the title song.

Yet Clark also uses the album to get more personal than he ever has on record before, often assessing the tough balance between career and family. "Pearl Cadillac" is a payback to a mother's devotion. He's the parent in "When I'm Gone," preparing a child for yet another trip away on the road, a topic he also takes up with a significant other in "Guitar Man," where he's weighing the "stamps in my blue book" and the fellowship of the road against the fear of a toll taken by time apart at home.

But if it's the ballsy tropes of rock, blues and R&B that you'd like a fresh spin on, This Land hardly foregoes the twin towers of swagger and regret. "Friday night and I just got paid/I'm out looking for some trouble," he sings in "Feel Like a Million," a number that starts out as Peter Tosh and ends up somewhere closer to an arena-rock anthem. He's found that trouble and then some in "Don't Wait Til Tomorrow," a balladic plea to the woman at home to forgive dalliances, with the knowledge that she may exact some what's-good-for-the-goose revenge. "Low Down Rolling Stone" is an affair-ending lament from a wayward soul who's discovered "darkness is my comfort zone." But there's no sorrow — yet – in a pair of kick-ass "got to" songs. "Got to Get Up" brings on the trumpet as Clark repeats "Kill 'em all!" like the rock mantra it is, and "Gotta Get Into Something" finds him reaching to pure Chuck Berry territory… or maybe not so pure, since there's something positively Ramones-y in his take on furious proto-punk rock and roll.

It may sound diffuse as an album, but it all holds together as part of a singular vision from Clark and his co-producer, Jacob Sciba, a longtime Austin friend and chief engineer at Arlyn Studios where most of This Land was laid down. Clark has had interest from some of the top producers in music but has found most of them are interested in bringing out just one aspect of his multi-faceted musical persona. Sciba is the pal and sonic wizard who comprehends the scope of what Clark does, and welcomes it… and is faced with the challenge of making something sonically coherent out of all these styles.

How to position Clark has been a cheerful problem from the start, since he was a blues aficionado who loved hanging with the hip-hop kids just as much as he relished going to local Pinetop Perkins shows. He grew up watching music television, but not so much MTV. "I kind of got introduced to everything by watching 'Austin City Limits,' which had Buddy Guy, B.B. King, Bonnie Raitt, Jimmie Vaughan, Robert Cray," he's said. "It all kind of hit me at once, and I just loved anything that sounded bluesy or rock & roll that felt dangerous and had loud guitar solos up front. Ultimately I figured out where it all came from, and I think the thing that really resonated with me was guys like Albert King and Freddie King — the three Kings," along with B.B. Soon, as a barely-teen prodigy, he was making his way out in to the real world, being mentored by Austin club owner Clifford Antone as he hooked up with every available local legend.

Local legend Doyle Bramhall brought him to meet Eric Clapton at a Crossroads Festival in 2010, where they jammed with Sheryl Crow. A year later, his Warner Bros. debut release Bright Lights EP became the first EP ever to get the lead review in Rolling Stone, which wrote, "A genuine 21st-century bluesman, raised on the form in all its roughneck roadhouse glory but marked by the present day? That's been as hard to find as a 21st century clockmaker."

But Rolling Stone may have really been on to something when the magazine got past his prodigious licks and added, "Suddenly you can envision him dueting with Adele, swapping tunes with Jack Johnson or singing hooks for Nas." Not all those collaborations came to be, but soon enough he was asked by Alicia Keys to co-write and play guitar on "Fire We Make," a song from her Girl on Fire album, not long before he released his Warner Bros. Records debut album, Blak And Blu, in 2012. Not long after, "Ain't Messin Round", from Blak And Blu was also nominated for Grammy in 2013 and in 2014, Clark had won his first Grammy for Best Traditional R&B Performance for the track "Please Come Home", from that album. Before long he was benefitting from the advocacy of the Rolling Stones, who've repeatedly enlisted him as an opening act and on-stage guest. He played for the Obamas at the White House alongside not just Mick Jagger but B.B. King, Jeff Beck, and Buddy Guy. On a prime-time tribute to the Beatles, he performed alongside Dave Grohl and Joe Walsh. On a similar TV tribute to Stevie Wonder, he teamed up with Beyoncé and Ed Sheeran. On record, he co-wrote and played guitar on Childish Gambino's "The Night Me and Your Mama Met." In 2017 he was widely praised as a standout among standouts at the MusiCares benefit honoring Tom Petty & the Heartbreakers, making two appearances that night, one by himself and once in collaboration with the Foo Fighters, huge fans who had recorded with and taken Clark out as their opening act before he graduated to major headliner status.

When the (then-) president of the United States has not only included you on his famous Spotify playlists but called you "the future," is there anywhere to go from there? This Land proves there is — and it's a genre-free future that encompasses virtually the entirety of electric roots music and African-American forms and moves forward from there. It's a landscape that's his eminent domain.

Los Coasts
On their eagerly awaited debut album Samsara, the visionary Austin, TX combo Los Coast delivers a fresh blast of punchy psychedelic-pop-soul that effortlessly incorporates a wide range of genres. The band's seamlessly soulful songcraft incorporates the band's distinctive grooves along with the inventive compositions and commanding vocals of principal members Trey Privott (lead vocals, guitar) and John Courtney (guitar, keyboards, vocals).

Even before Samsara had been recorded, Los Coast had already earned a reputation as one of Austin's most exciting and inventive young bands. With its lineup rounded out by Megan Hartman on bass, Damien Llanes on drums and Natalie Wright on keys, plus a varied assortment of guest players, Los Coast was already renowned for its rousing, expansive live sets.
That same mix of energy and expertise is reflected on Samsara, which features such memorable, no-nonsense tunes as "Simplify," "Monsters," "Graves" and the frantic, tongue-twisting "(Everything But) The Kitchen Sink." The album delivers infectious hooks, ironic lyrical twists and explosive funk grooves in equal measure, providing an irresistible frame for Privott's soulful vocals and the band's explosive grooves.
"We love pop music, but we also love to experiment," says Courtney. "We try to avoid letting the listener know what's coming, and we like playing with people's expectations and catching the listener off guard. It becomes stale if it's too familiar, so we like to come up with music that's familiar and surprising at the same time."
"We're lucky to be able to explore these different sounds and different attitudes, and do a little dabbling," adds Privott. "We started with a blank canvas, and we built a diverse color palette around the album that we wanted to create. It felt like everything was fair game, from psychedelic funk to the blues to acoustic singer-songwriter pop."
"I think this album captures a moment in time for the band, and a moment of time in Austin too, with certain things that were in the air at the time, and certain tides turning," Courtney offers.
Georgia-born Privott's first love was jazz -- thanks to the influence of his uncle, noted guitarist and former Late Night with David Letterman band member Hiram Bullock -- but his musical consciousness soon came to embrace gospel and soul, thanks to his family's Southern Baptist faith, as well as punk rock, folk and hip-hop. He began picking up various instruments in his early teens and began experimenting with recording soon after. Although Texas native Courtney focuses on lead guitar with Los Coast, he's a versatile multi-instrumentalist whose sensibility was influenced by his extensive studies at the prestigious Berkley College of Music.
"I see us as a rock and roll band with a lot of soul influences, like Sam Cooke and Otis Redding," Privott states. "Otis was from Georgia, Little Richard, too, and that music is in my blood. What I think makes Los Coast stand out is that we're psychedelic. As a guitar player, John Courtney is into guys like Jerry Garcia and he's also jazz-trained. His playing defines the band just as much as my voice does."
Trey and John hooked up in Austin in 2015, and quickly won an audience in their adopted hometown, thanks to a long-running weekly residency at the Austin club C-Boy's. "We had wanted to use the residency as a chance to get comfortable onstage, and to really learn to play as a group," Trey explains. "But more and more people started showing up, which we hadn't expected at all."
A high-profile gig at 2016's Austin City Limits festival helped to spread the band's reputation beyond its hometown, as did some out-of-town touring that helped to build demand for Los Coast's long-simmering debut album, elevating the group to official buzz-band status. The band's memorable first indie single, "Summer Samaritan," gave way to the indelible gospel-funk of its follow-up "Simplify," which now serves as a key track on Samsara.
"We reworked the album multiple times because we wanted to get it right," Courtney admits. "We were being a little perfectionist, but we finally got to the point where we felt good about it. It was a long process, but it was time well spent."
"We built the sessions from the ground up," adds Privott. "It was kind of a non-traditional way to make an album, to work on it for so long. We went moment by moment, instrument by instrument, and we used everything we had to work with. That seemed to work for us. Now we're looking forward to sharing it with the world."