How The Grouch Stole Christmas Final Tour: The Grouch and Murs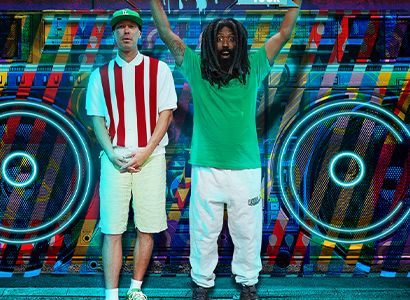 How The Grouch Stole Christmas Final Tour: The Grouch and Murs
| | | |
| --- | --- | --- |
| Doors: | | 9:00 pm |
| Start: | | 9:30 pm |
| Age: | | Ages 18+ Only |
| Price: | | $25 GA / $30 (Under 21 $5 surcharge) GA / $40 Reserved / $45 (Under 21 $5 surcharge) Reserved |
Celebrate the holidays with rappers + co-founders of underground hip-hop collective The Living Legends.
Buy Tickets
Event Information
Genre: Alternative Hip Hop
18+ with a valid photo ID.
Reserved seating is available for $40 and guarantees a seat in the reserved section. If necessary groups will be paired together at tables. Seating is based on time of purchase and the configuration of groups.
There is a ticket limit of 4 GA OR 6 RESERVED per customer based on address, credit card, email address, or other information. Multiple accounts may not be used to exceed these ticket limits. Limits for each show may vary and are listed on the individual show purchase page.
Digital Delivery is only valid if purchased from Belly Up, Aspen. Do not purchase Digital Delivery from unauthorized sources as they may be lost, stolen or counterfeit, and if so, are VOID. Additionally, we may be unable to verify that tickets purchased from third parties are valid and in such case, you may not be permitted entrance to the show. Remember, there are no exchanges or refunds.
DIGITAL DELIVERY OF TICKETS WILL BE ON A DELAY FOR THIS SHOW and will be emailed to the address you provided prior to the show date, typically within a week of the show, but may be as late as the day prior. You will receive an individual email for each ticket purchased with your ticket attached. Each ticket must be readily available on your phone or printed and brought to the event. All WILL CALL tickets will be released to the original buyer or authorized transferee only upon presentation of a valid picture ID.
Orders exceeding published limits, or any tickets purchased for resale, or the resale or attempted resale of any ticket at a price greater than face value is a violation of our ticketing policy and we may cancel a portion or all of such orders without notice. Ticketing violations may result in the prohibition of future ticket purchases. In each such case, service fees charged for the purchase of tickets may be retained by Belly Up, Aspen.
Supporting acts may be changed or cancelled without notice, however such change or cancellation is not grounds for refunds.
The Grouch
The Grouch is one of the founding members of the internationally infamous crew, The Living Legends. Humbly beginning on a 4-track recorder nearly 15 years ago, The Grouch has steadily grown into one of the prominent figures within the independent hip hop scene. Known for captivating his listeners with his down to earth and truthfully poignant raps and production, The Grouch has successfully released over nine solo projects making this year's, "Three Eyes Off The Time" his tenth solo release. In addition to his solo career, The Grouch has played an integral part in building the Living Legends brand, sound, and image. A consummate workaholic, The Grouch also has numerous groups outside of his solo career and LL collective, most notably: The Grouch & Eligh, Zion I & The Grouch, and The CMA with Living Legends crewmate, Luckyiam.
Murs
He is one of the most successful and prolific independent rappers of all time. He has recorded a string of revered collaborative albums with Fashawn, 9th Wonder and Slug of Atmosphere (as Felt). He's also the owner and founder of the groundbreaking Paid Dues festival, which highlights the best underground rap on the planet. But one thing MURS lacked was a definitive solo album. Until now.

Have A Nice Life, the Los Angeles rhymer's debut solo album on Strange Music, encapsulates MURS' far-reaching personality and sensibilities while arriving as a cohesive project that nonetheless vacillates between being humorous, serious, intense, street and socially aware.

"My former manager told me this is supposed to be the 'quintessential MURS album,'" MURS says. "A lot of people said to her, 'I know MURS from Paid Dues and I know him from being around, but I don't know who he is or what he does.' Jay Z is the ex-crack dealer, hustler rapper. Rick Ross is the Tony Montana rapper. I feel like I have a duality and I'm hard to classify. There's a duality to the album. It's conscious, but it's still street. I was going to call is Love & Rockets Vol 2 initially, but Have A Nice Life is just something that always seems to catch people off guard when I say it. It always evoked an emotion, so I figured, 'Why not make it the title of the album?'"

MURS came full circle while making Have A Nice Life, reconnecting with childhood friend and platinum, Grammy-nominated producer Jesse Shatkin (Sia, Kelly Clarkson, Kosha Dillz), who produced the majority of the project and helped shape its sonic vision. Friends for 20 years, Shatkin worked with MURS on his 2003 album, …The End Of The Beginning, and is more in tune with MURS' musical sensibility than any other producer.

So when they began recording, the pair made a bold statement with their first song, "No More Control." With driving drums and heavy synths, MURS raps about a wide range of topics, from having the world in his hand, coming up in the ghetto and the significance of the, Black Lives Matter movement. It's MURS' world, a world of drug dealers, comic books, white girls, real brothas, skateboards and bandanas.

"I wanted to lay down my intentions for this record, which is to lay down who I am, where I come from and what my struggle has been," MURS says. "Initially 'Control' was a two-verse song. Then everything with Ferguson happened after that with the Black Lives Matter movement, so I came back and added a third verse. That's the exclamation point on a point of view that I don't think has been recorded yet."

MURS then examines, in detail, Los Angeles gang life on the story-driven "Okey Dog" and explores the adverse effects of living in the ghetto on the charged "PTSD," a stark collaboration with E-40.

"No one treats us for that," MURS says, referring to Post Traumatic Stress Disorder. "No one respects us. The majority of America can't respect that we're dealing with a group of children – my generation – that has the same thing we're complaining that war vets can't get care for. I sympathize with them, as well, because I know what it's like."

While some of Have A Nice Life focuses on societal ills, several songs center on another one of MURS' favorite topics: women. With "Mi Corazon," for instance, he raps in Spanish and English about falling for Letty, a half Mexican-half Salvadorian girl he met at a party. After dropping Letty off, MURS nearly gets jumped by two guys who don't approve of their relationship. Fortunately, the police intervene. "That's happened to me a couple times in my life where I'm like, 'Thank God you guys came by to racially profile me because I was actually about to get my ass beat,'" MURS says.

MURS shifts gears with "The Worst," a cautionary tale of a married rapper battling the temptations of the road. MURS based the song on stories he's heard about side chicks wrecking relationships.

"Being a married man, I'm definitely familiar with the temptation," he says. "The story isn't true. I've never cheated on my wife. Not cheating on your wife and being in my profession is like being in recovery from alcoholics anonymous. You don't ever say you're not an addict. I treat every day like I'm a potential cheater and that way I don't cheat. So, that song serves as a warning to me and a warning to others."

Though his music often deals with high stakes situations, MURS has settled into a good business groove now that he's signed to Strange Music. After recording a string of one-off albums for the majority of his career, Have A Nice Life stands as MURS' debut solo project on Strange Music, following 2014's collaborative album with ¡Mayday!, ¡MursDay!

¡MursDay!formally introduced MURS to the Strange fanbase, kicking open the door for him to become a fixture at the independent powerhouse. After working with the imprint on music and tours, MURS was glad to join the label.

"I believe that the people who work for Strange Music are good people and that they want to see me succeed and they want to see the label succeed," MURS says. "It's good to have that for once."

And with Have A Nice Life, MURS has a project poised to have him succeed in ways he never has before.
DJ Abilities
Gregory Keltgen (born 1979), better known by his stage name DJ Abilities, is a Minnesota-based underground hip hop producer and DJ signed to Rhymesayers Entertainment. He is a founding member of Eyedea & Abilities alongside the late rapper Eyedea and also Semi.Official alongside rapper I Self Devine. Abilities is a member of 1200 Hobos and was also a member of Atmosphere at one point.