Jacuzzi Boys - NO COVER BEFORE 10PM
with Special Guest Garrett T. Capps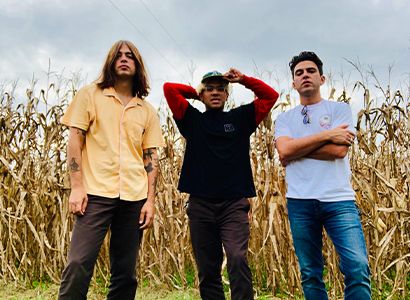 Jacuzzi Boys - NO COVER BEFORE 10PM
with Special Guest Garrett T. Capps
| | | |
| --- | --- | --- |
| Doors: | | 8:00 pm |
| Start: | | 8:30 pm |
| Age: | | All ages |
| Price: | | $5 After 10pm GA / $10 (Under 21 $5 surcharge) After 10 GA |
NO COVER BEFORE 10PM
Event Information
Genre: Indie Rock
ALL AGES: 18+ w/ valid photo ID, under 18 must be accompanied by parent or guardian.
NO COVER until 10pm SHARP. $5 after that time.
$5 surcharge for under 21.
Jacuzzi Boys
The year, 2007. The Boys, Jacuzzi. Hatched inside a vulture's nest, Jacuzzi Boys emerged from deep within the Florida wilds, three radioactive chicks cawing for their piece of electric rock pie.

With No Seasons (Florida's Dying) they freaked their way through the swamps, a psycho stomp of a record, all hallucinations and hand claps. Glazin' (Hardly Art) found a more polished sound. They installed AC units inside their mobile homes, found a way to turn neon into ice cubes. Now, with their third full-length, the self-titled Jacuzzi Boys, they're going grand, building limestone monuments to those that boogied before them, while writing hypnotic ear worms by the light of a cigarette. Gone is the swamp-thing snarl. In it's place, the indestructible cool of the casino slot-jockey with nothing to lose.

Recorded at Key Club Recording Co. in Benton Harbor, Michigan—same as 2010's Glazin'—the new record takes full advantage of expert engineers Bill Skibbe and Jessica Ruffins' sonic sandlot, with Kramer in charge of mastering. The end result? A smashing set of tunes as dazzling as a sparkler.

It's like that movie you once saw. The one with the boy and the girl and the plastic lounger on the beach. "Be My Prism" was the invitation. "Black Gloves" and "Double Vision" the promise. "Dust" was the rising tide. "Rubble," the dirty uncle. "Hotline" was the lightning storm, and "Ultraglide" was the ending, the part where he drove her home with the windows down.

You remember you liked it.

It stayed with you while you swam alone in your pool that night.
Garrett T. Capps
"ALL RIGHT, ALL NIGHT" IS A JOURNEY THROUGH TEXAS ON A SPACE SHIP THAT LAUNCHES FROM SAN ANTONE," EXPLAINS CAPPS. "I AM THE CAPTAIN. FROM THE RECENT AND DISTANT PAST, THE PRESENT, AND IN TO THE FUTURE, THE SONGS ON THIS RECORD UNIQUELY DISPLAY MY EMOTIONS AND ENCOUNTERS THROUGHOUT MY LIFE. I BELIEVE THIS ALBUM WILL WITHSTAND THE TEST OF TIME AND THE SONGS WILL RESONATE WITH THE HUMAN SPIRIT. IT WILL MAKE YOU WANT TO DANCE AS WELL." THE ALBUM, RELEASED 8/30/19, KICKS OFF WITH THE TITLE TRACK - A PROPULSIVE MIX OF CLASSIC COUNTRY SENSIBILITIES, ATMOSPHERIC AMERICANA AND CONFLATIONS ABOUT THE INTENSE MYSTERIES OF DREAMS AND JOURNEYS IN TO THE SUBCONSCIOUS. "ALL RIGHT, ALL NIGHT" IS THE SECOND ALBUM INSTALLMENT OF THE "IN THE SHADOWS TRILOGY" ¡VIVA!