Justice - New Year's Eve Masquerade Ball
with Thibault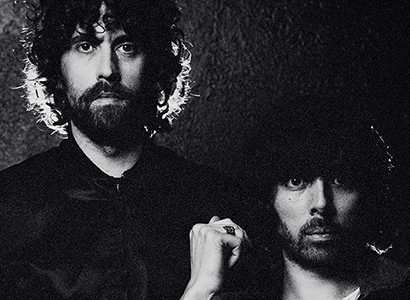 Justice - New Year's Eve Masquerade Ball
with Thibault
| | | |
| --- | --- | --- |
| Doors: | | 9:30 pm |
| Start: | | 10:00 pm |
| Age: | | Ages 21+ Only |
| Price: | | $300 GA / $695 Reserved |
Buy Tickets
Event Information
An evening at Belly Up unlike any other. Masks are encouraged.
Genre: electronic, dance
21+ with a valid photo ID.
Reserved seating is available for $695 and guarantees a seat in the reserved section. If necessary groups will be paired together at tables. Seating is based on time of purchase and the configuration of groups.
There is a 4-ticket limit for general admission OR a 6-ticket limit for reserved per customer, credit card or email address. Orders exceeding these limits, or any tickets purchased for resale, may have a portion or all of their orders cancelled without notice.
Pre-sale: Tuesday October 2 @ 2PM MST
Public onsale: Wednesday October 3 @ 2PM MST
Justice
Back in 2007 Justice's crunching deconstruction of techno, pop, R&B, electro, funk, metal and pretty much anything else that took their fancy established the pair as one of France's most vital musical exports. Their second album, 2011's Audio, Video, Disco, pushed the sonic boat out even further. A bombastic aural wallop whose classic '70s rock flourishes owed as much to Queen and Yes as it did Frankie Knuckles or Prince, it saw them embark on rapturously-received world tour that took in headline slots at Coachella and Lollapalooza.

The first taster fans had after a five-year studio silence, « Safe And Sound » is the perfect fanfare for what lies ahead. Built upon a bedrock of slap bass workouts and glistening synthesisers, the sense of drama is ratcheted up by swirling Love Unlimited-styled disco strings.

Woman's journey catapults you from the elastic R&B pop of « Pleasure » straight into the rush of « Alakazam! ». Twirls through a dazzling bout of thumping electronic piano and clavinet sparring during « Fire »'s dancefloor peacocking, barely pausing for breath before it lands at « Stop » - a sparkling, bittersweet slice of disco pop that boasts one of the best chorus the pair have ever had on a track.

Featuring Audio, Video, Disco collaborator Morgan Phalen on vocals, « Randy » has a melody Michael McDonald would have killed a fellow Doobie Brother for (if Michael McDonald was into gut-shuddering electro that is). « Love S.O.S », meanwhile, sounds like the greatest disco anthem you've never heard, striking the perfect balance of euphoria and heartache while a synth wails like a police siren throughout.

It's mirrored in a more live approach to recording. At least that's what it initially sounds like. What you think is a live drum track turns out to be a heavily treated 808 and what sounds unmistakably like a theremin transpires to be a woman playing a musical saw. The songs themselves too are almost impossible to pin down. Coming halfway through the album, Chorus jolts the listener out of any concept of what the record is going to promise next. What is it? Glitch techno? Sci-fi prog? Celestial disco?

Only a fool would try to second guess Justice. And that includes Justice themselves.
Thibault
Thibault is what happens when voltaic house beats wander into the throbbing neon forest of electro funk. He is distorted strobe light soul melted on lightning pancakes with a side of techno darkness. Born from the loins of Rock n Roll, and mothered by Hip-Hop and Big Beat, Thibault is emerging as a singular electronic producer and live performer.