Music Night for Jake featuring Shakedown Street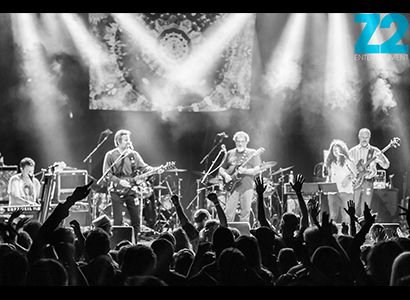 Music Night for Jake featuring Shakedown Street
| | | |
| --- | --- | --- |
| Doors: | | 9:00 pm |
| Start: | | 10:00 pm |
| Age: | | All ages |
| Price: | | $10 After 10:30pm GA / $15 Under 21 GA (After 10:30pm) GA |
NO COVER PRE 10:30PM
Event Information
6th Annual "Music Night for Jake" honoring the life of Jake Foerster and benefiting the Jake Foerster Music and Arts Fund.
The fund raises scholarship funds for Valley High School Seniors who show expertise in the medium of sound.
Genre: Tribute Band
18+ w/ valid photo ID, under 18 must be accompanied by parent or guardian.
NO COVER until 10:30pm SHARP.
$10 after that time. $5 surcharge for under 21.
Shakedown Street
One of the longest running Grateful Dead tribute bands in the world, Shakedown Street, makes its home in and around the Rocky Mountain region of North America. Spawned from jam sessions at the Ancient Mariner bar in Manitou Springs, Colorado in 1987, Shakedown Street quickly grew in popularity, and garnered a legion of loyal fans who refer to themselves as "Shakeheads". In a few short years, throngs of "Shakeheads" could be found on the highways and byways of the Rocky Mountains, making their way to another Shakedown Street show.

In the live music venues of the Rocky Mountains, there are only a few bands that are able to consistantly draw large audiences. Shakedown Street accomplishes this year after year by embodying the Grateful Dead ethos of improvisation and discovery, while maintaining an intimacy and open repoire with its audience. A whole new generation of "Shakeheads" has discovered the positive and collaborative energy found at a Shakedown Street concert. Longtime fans are thrilled to find the band sounding hotter than ever, and having the time of their lives!

The band's personnel is comprised of:
Josh Rosen (Lead Guitar and Vocals) from Fort Collins;
Smokey Joe Weisiger (Keyboards/Organ and Vocals) from Arvada;
Edwin Hurwitz (Bass) from Boulder;
Scott Swartz (Rhythm Guitar and Vocals) from Moffat;
Christian Teele (Drums and Percussion) from Boulder.

Throughout the years, Shakedown Street has had the privilege of sharing the stage with many iconic musicians. Some of these include former Grateful Dead members Vince Welnick and Tom Constanten, as well as Melvin Seals of the Jerry Garcia Band. Others include Los Lobos' David Hidalgo, The JGB Band, Hot Tuna, New Riders Of The Purple Sage, Merl Saunders, Jerry Jeff Walker, Vince Herman of Leftover Salmon, and many others.

With a working repertoire of over two hundred songs, Shakedown Street is able to perform multi night runs without repetition, drawing equally from early and modern Grateful Dead songs, and weave together unique and unforgettable performances. Believing that it is good to give back to the planet, Shakedown Street performs charity and benefit engagements on an ongoing basis to help their local and global communities.