Nahko and Medicine for the People
with Xiuhtezcatl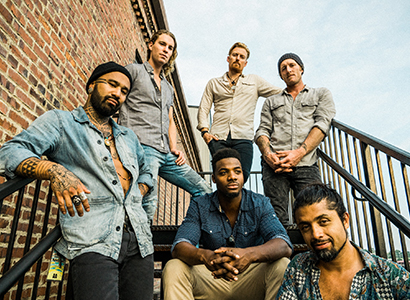 Nahko and Medicine for the People
with Xiuhtezcatl
| | | |
| --- | --- | --- |
| Doors: | | 7:30 pm |
| Start: | | 8:30 pm |
| Age: | | All ages |
| Price: | | $35 GA / $60 Reserved |
Buy Tickets
Event Information
Genre: Alternative Rock
ALL AGES: 18+ with valid photo ID. Under 18 must be accompanied by a parent or guardian.
Reserved seating is available for $60 and guarantees a seat in the reserved section. If necessary groups will be paired together at tables. Seating is based on time of purchase and the configuration of groups.
There is a 4-ticket limit for general admission OR a 6-ticket limit for reserved per customer, credit card or email address. Orders exceeding these limits, or any tickets purchased for resale, may have a portion or all of their orders cancelled without notice.
Nahko and Medicine for the People
It sounds like the logline for a classic sixties film…

An Oregon native leaves home at 18, follows love from Alaska to Louisiana only to learn about heartbreak the hard way, meets his birth mother for the first time, eventually settles in Hawaii, and launches a successful band. It isn't the fulfillment of some loose end in Easy Rider or Five Easy Pieces though. It's the origin story of Nahko captured on his 2017 solo offering, My Name Is Bear. The album predates his rise to mythos among diehard fans in Nahko and Medicine for the People, and it's an important piece of the puzzle that is Nahko.

My Name Is Bear might incite some of the same questions. Artfully merging rustic acoustic guitars, upbeat energy, tribal flavors, fiery percussion, and ponderous lyrics, these recordings reflect the soul and spirit fans have come to know and love from his work in Medicine for the People, while venturing into decidedly more "rocking" and "personal" territory, as he puts it.

"My music did not define me at 18-21 the way it does now. It was my comfort zone. I turned to it to get me through all of the transitions. I had no definition of life at the time. Music is my language, that is certain. It is my way to get in, out, over, and under. It's my bridge. I can connect with people and many other things with it."
Xiuhtezcatl
The new wave of hip-hop has arisen a woke generation. From it, Xiuhtezcatl — seventeen-year-old Indigenous rapper and activist — has emerged, stirring the comatose with his music.

From performing at the Standing Rock encampment with Immortal Technique and Nahko, to leading the Youth v. Gov. lawsuit against the Federal Government, Xiuhtezcatl's actions show his music is more than words.

Xiuhtezcatl grew up immersed in the indigenous Aztec traditions of his father and advocating for social and environmental justice with his mother.

"My dad taught me that all life is sacred. When I was a little boy, we would always talk about our responsibility to protect our land, our culture, our earth as indigenous people. These teachings are the foundation of the music I write and the things I fight for."
— Xiuhtezcatl

At the age of seven, Xiuhtezcatl began songwriting and performing as a means to reflect his world and activate his generation.

His rousing story and performances captivated a global audience, garnered millions of views on YouTube, and have been featured in major publications including Rolling Stone, Billboard, Vice and The New York Times.

Recently Xiuhtezcatl performed before the U.N. General Assembly, collaborated on stage and in the studio with Jaden Smith and Bassnectar, and appeared on Real Time with Bill Maher and The Daily Show with Trevor Noah.

Additionally, he wrote the best-selling book, We Rise, and is featured in the next iconic series by Shepard Fairey, We The Future.