Nappy Roots
with DNA Picasso (Late Show)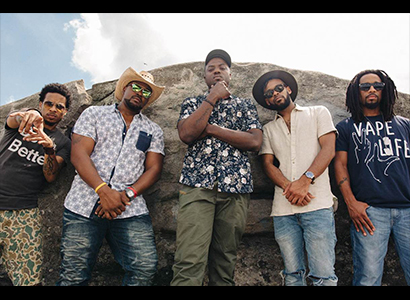 Nappy Roots
with DNA Picasso (Late Show)
| | | |
| --- | --- | --- |
| Doors: | | 10:00 pm |
| Start: | | 10:00 pm |
| Age: | | Ages 21+ Only |
| Price: | | $20 GA |
Hip-hop group with hit singles "Po' folks", "Awnaw", "Roun' The Globe", and "Good Day."
Buy Tickets
Event Information
Genre: rap, hip hop
21+ with a valid photo ID.
There is a 6-ticket limit per customer, credit card or email address. Orders exceeding these limits, or any tickets purchased for resale, may have a portion or all of their orders cancelled without notice.
Nappy Roots
After six years as independent artists and label owners, the group's latest project, Nappy Dot Org, which stands for Nappy Roots.Organized Noize, a collaboration with the legendary Organized Noize collective, has allowed them to once again approach an album strictly as artists. Early on in the process of conceptualizing and working on this album, the group knew that they were not looking forward to the A&R duties they had been forced to undertake on their previous two independent albums. The tedious task of finding producers, sifting through their music to find something every member of the group could agree on, then making sure the business end of the transaction was properly taken care of was taking too much time away from the creative. So their manager's suggestion to work on the new album exclusively with Organized Noize – the production camp behind Atlanta's renowned Dungeon Family- was immediately accepted.

Coming from a place of mutual respect, it didn't take long for the two crews to develop an easy working relationship. Organized Noize further simplified the process by crafting music specifically for this project, thereby eliminating the need for Nappy Roots to do anything but be lyricists.

"When we left Atlantic Records, we knew that we could handle the day-to-day business of running a record label or production company, because we had done it since college," says Skinny DeVille. "But working with Organized Noize took some of the dirty work out of the equation and let us be creative without the pressure." It also helped that Nappy Roots new that the quality of the production was going to surpass their expectations, which gave them the motivation to perform at the highest level lyrically.

"Working with Nappy Roots feels like a continuation of a movement that began when a bunch of us from the South, especially in the Dungeon Family, decided that we had something to say about Southern culture to the Hip-Hop world," says Ray Murray of Organized Noize.

The final product is an album that is equally representative of Nappy Roots and Organized Noize's respective creative identities, hence the name Nappy Dot Org. It is natural and organic, a melding of free thoughts over cutting edge musical concepts. The album's sound incorporates everything that has created the South's musical legacy, from the church organs to the heavy bass.

From the light-hearted "Y'all Party" to the sonically rich "Congratulations," the album captures an effortless maturity that is also relatable to younger listeners. Each of the songs manages to provide it's own vibe. "Hey Love," for example, finds Nappy Roots open, emotional and vulnerable in a way rappers are very rarely seen. The song's honesty and raw emotion are as organic and authentic as any of the other tracks on the album, adding another layer to this well-rounded offering.

"We feel that we did exactly what people would have expected from us," says B. Stille. "We knew that once our fans heard Nappy Roots was working on an album with Organized Noize, the expectations would be crazy. And we worked hard to deliver on that anticipation."

By far one of the most underrated Hip-Hop acts to have emerged over the past few years, their accomplishments and the milestones they've reached are the stuff of often-referenced Hip-Hop legacies. But theirs remains a legacy that isn't celebrated nearly as much as it should be… at least not by the "industry." The fans, on the other hand, recognize just what sets Nappy Roots apart: consistency. In addition to their two independent releases – The Humdinger and Pursuit Of Nappyness, released in 2008 and 2010 respectively– Nappy Roots has provided their fans with new music every year since 2004, amassing a total of no less than 10 full-length albums and mixtapes.

To support these releases, the group has also maintained one of the most active touring schedules in Hip-Hop, performing a total of 200 dates in 2010 alone. The heavy touring has not only helped to keep Nappy Roots ever present in the minds of their continually expanding fan base, it has provided them a wider perspective on life, which in turn allows them to create music for a wider audience than most Hip-Hop act have access to.

Of course, throughout their work, Nappy Roots has never abandoned its dedication to service and education. Since it was first proclaimed a statewide holiday in Kentucky in 2002, the group has celebrated "Nappy Roots Day," on September 16, as an opportunity to share impart the importance of education to younger fans. Of course, this band of brothers, whose friendship was forged on the campus of Western Kentucky University, doesn't limit their dedication to promoting higher learning to that one day of the year. In addition to their constant speaking engagements, they are currently finalizing plans to launch a 7-week camp that will take a small group of middle school and high school students on a tour of Kentucky colleges and universities.
DNA Picasso
Born in NYC, DNA, went from living in foster homes with his twin brother to being adopted and moving to southern California. DNA would eventually plant his roots in Denver, CO. Since then, his music has hit over 500K spins/views across all streaming platforms put together including SoundCloud, Tidal, Spotify, Facebook, YouTube & Instagram. With DNA, you can always expect thorough bars, dope visuals and a consistent hunger to get to the top.