Ozomatli
with Los Mocochetes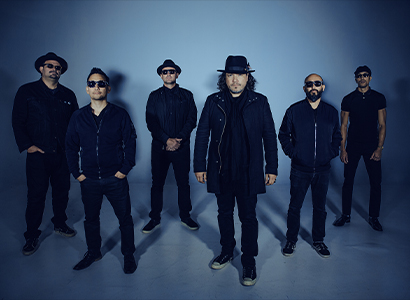 Ozomatli
with Los Mocochetes
| | | |
| --- | --- | --- |
| Doors: | | 8:00 pm |
| Start: | | 8:30 pm |
| Age: | | All ages |
| Price: | | $20 Advance GA / $25 Day Of Show GA / $40 Reserved |
Album Street Signs won the Grammy for Best Latin Rock/Alternative Album and Best Alternative Music Album at the Latin Grammy Awards.
Buy Tickets
Event Information
Genre: latin, hip hop, rock
ALL AGES: 18+ w/ valid photo ID, under 18 must be accompanied by parent or guardian.
Reserved seating is available for $40 and guarantees a seat in the reserved section. If necessary groups will be paired together at tables. Seating is based on time of purchase and the configuration of groups.
There is a 6-ticket limit for general admission OR a 6-ticket limit for reserved per customer, credit card or email address. Orders exceeding these limits, or any tickets purchased for resale, may have a portion or all of their orders cancelled without notice.
Ozomatli
Brewing a vital concoction of Latin salsa, urban hip-hop, and jazz-funk, Ozomatli formed in Los Angeles in the mid-'90s, eventually settling on a lineup that included Raúl "El Bully" Pacheco, Ulises Bella, Jiro Yamaguchi, Cut Chemist, Chali 2na, Wil-Dog Abers, Mairo Calire, Rene "Spinobi" Dominguez, Justin "Niño" Porée, Asdrubal Sierra, and Jabu. After making their name on the local club circuit, the group made an appearance on the urban late-night talk show Vibe! and released its self-titled debut in June 1998. Embrace the Chaos was released in 2001, followed by an EP, Coming Up, in 2003. A third full-length, Street Signs, which featured a changed lineup (both Cut Chemist and Chali 2na, for example, left the group on good terms), came out in 2004 and subsequently won a Grammy. A concert CD, Live at the Fillmore, with an accompanying DVD of the show, was released in 2005, unofficially honoring the group's tenth anniversary, and in 2006, Don't Mess with the Dragon was released, followed by Live from Soho in 2008. The band returned to the studio with producer Tony Berg to issue Fire Away, its debut album for Mercer Street Records/Downtown Records, in 2010. Two years later, a surprise turn into children's music produced Ozokidz. In 2014, Ozomatli delivered their seventh studio album, the Robert Carranza-produced Place in the Sun. While they played the festival circuit in the U.S., Canada, and Europe in support of the album, it was business as usual: The group seldom took time off, playing across Latin America and the Caribbean as well. In 2015, the band honed in on a new vision: to revisit their collective Latin music heritage through the lens of reggae and Caribbean music. They undertook a PledgeMusic campaign (and reached 153-percent of their goal) and entered the studio with Sly & Robbie as producers. Ozomatli also invited a large host of guests to assist on various tracks. They included Gaby Moreno, Juanes, Regulo Caro, and "Herb Alpertto." The material included songs written by Selena, Café Tacvba, Juan Gabriel, Julieta Venegas, and Los Tigres del Norte, and rearranged tunes from their catalog. Entitled Non-Stop: Mexico to Jamaica, the set was issued by Cleopatra in the spring of 2017. ~ John Bush, Rovi
Los Mocochetes
Los Mocochetes are a Chicano Funk band from Denver, CO. This colorful cast of characters fuses thoughtfully brazen, socio/politically charged song lyrics, groovilicious melodies and high-energy stage antics to create an immersive experience unlike anything you've ever seen before. Much like a machete, which can be used either as a tool to build or a weapon to kill, they have chosen to use their music to inspire and encourage positive social change. Every show is different, but it's always a dance party with a purpose!

Los Mocochetes received the Westword Music Showcase award for Best Latin Band of 2017 and Best Funk Band of 2018. They were named Colorado Standout for NPR's Tiny Desk Contest 2018 and opened for contest winner Naia Izumi on the Denver stop of his national tour. They have opened for a variety of national touring acts such as The Original Wailers, Lil' Wayne, Flor de Toloache, Jessica Hernandez and the Deltas, Dos Santos, The Chamanas and Lil' Jon. They have been featured in festivals including the Westword Music Showcase (local headliner), Denver Post Underground Music Showcase, Colorado Latino Festival, A Taste of Colorado, Mile High 4/20 Festival, Tribal Visions (NM), and have performed at numerous iconic Denver venues such as the Bluebird Theater, Oriental Theater, Su Teatro Cultural and Performing Arts Center, Denver Art Museum, Levitt Pavillion, Cleo Parker Robinson Dance Company, Mercury Cafe, Larimer Lounge, Syntax Physic Opera, Aztlan Theatre, Lost Lake, Hi Dive, 3 Kings Tavern, Herman's Hideaway, Lion's Lair, and a sold out Ophelia's Electric Soap Box. The band has a strong connection to New Mexico, often touring the state playing as far south as Acapulco, MX and as far north as Cheyenne, WY.

The current lineup features artists with a wide variety of influences. They are poets, singers, painters, rappers, actors, musicians, dancers, producers, composers, dreamers, doers, thinkers. They are gente who make music together and enjoy all forms of creativity. The Mocochetes are here to ignite a fire in every audience member to enjoy the moment and then go out and make a difference!