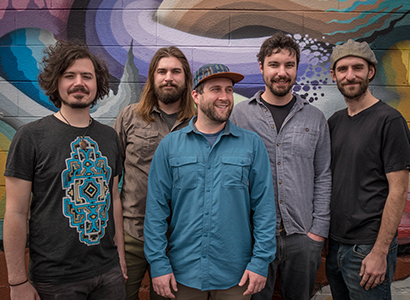 Papadosio
with Cycles
| | | |
| --- | --- | --- |
| Doors: | | 9:30 pm |
| Start: | | 9:30 pm |
| Age: | | All ages |
| Price: | | $28 Advance GA / $32 Day Of Show GA / $45 Reserved |
Space-rock jam band with a mission to "create unexpected combinations of eclectic musical traditions with modern electronica to stir the heart and fuel the mind." (Marquee Mag)
Buy Tickets
Event Information
Genre: Prog Rock, Jamtronica
ALL AGES: 18+ w/ valid photo ID, under 18 must be accompanied by parent or guardian.
Reserved seating is available for $45 and guarantees a seat in the reserved section. If necessary groups will be paired together at tables. Seating is based on time of purchase and the configuration of groups.

There is a 6-ticket limit for general admission OR a 6-ticket limit for reserved per customer, credit card or email address. Orders exceeding these limits, or any tickets purchased for resale, may have a portion or all of their orders cancelled without notice.
Papadosio
FALLING SOMEWHERE BETWEEN ROCK, JAZZ AND ELECTRONIC MAYHEM WE FIND SPACE ROCK. PAPADOSIO STRIVES TO CREATE MUSIC THAT IS STRANGELY FAMILIAR, AND CALLS ALL WALKS OF HUMANITY TO BASK IN A UNIQUE EXPERIENCE CELEBRATING THE ONE CONSTANT IN AN EVER CHANGING WORLD: MUSIC.

Cycles
The Denver-based power trio, Cycles, comprised of Patrick Harvey (guitar), Michael Wood (drums), and Tucker McClung (bass/vocals) are on a musical mission to melt your mind. Self-described as "psychedelic rock fusion", Cycles effortlessly blends rock, jazz, hip-hop, soul, and much more creating a versatile soundscape that makes each live show different than the last.
Striving for variety in each set, Cycles carefully construct a show designed to thrill.

Each member brings a special set of skills and influences to the table. Living in the same house together and practicing hours upon hours each day has created a profound chemistry between the band members that truly shines through in the live setting. Tucker McClung is a powerful commander of the bass who never shies away from applying the melodic nature of the instrument all the while leading the show with powerfull vocals.

Michael Wood, with his tight and jazzy drum beats, works tirelessly to keep the band on track through intricate tempo changes and wide-open space. Patrick Harvey's dominating guitar shred is what completes the band's sound and often drives them to take the jams into outer space. The songs are written by all members of the band which adds yet another element of diversity to the end product. With humorous, relatable, and illustrative lyrics, Cycles reaches out and touches their audience in a way that produces a feeling of harmony and community.

Throughout the last year, Cycles has picked up some serious steam around Colorado. Every show Cycles plays garners new fans. In January of 2016, the band released their first EP, "Loads Of Fun" which showcases their one-of-a-kind sound. This summer will see Cycles embark on their first nation-wide tour. With runs of shows ranging from Chicago to Portland, the rest of the country will soon get to experience first-hand what all their friends have been talking about.