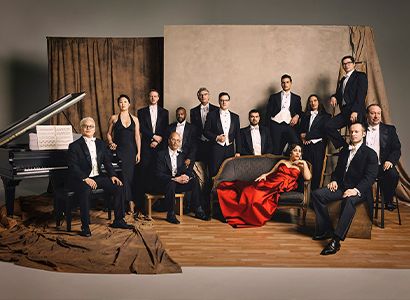 Pink Martini
| | | |
| --- | --- | --- |
| Doors: | | 8:00 pm |
| Start: | | 9:00 pm |
| Age: | | All ages |
| Price: | | $75 GA / $165 Reserved |
Internationally recognized music group with over 3 million album sales worldwide + five certified Gold albums in France, Canada, Greece and Turkey
Buy Tickets
Event Information
Genre: jazz
ALL AGES: 18+ with valid photo ID. Under 18 must be accompanied by a parent or guardian.
Reserved seating is available for $165 and guarantees a seat in the reserved section. If necessary groups will be paired together at tables. Seating is based on time of purchase and the configuration of groups.
There is a ticket limit of 4 GA OR 6 RESERVED per customer based on address, credit card, email address, or other information. Multiple accounts may not be used to exceed these ticket limits. Limits for each show may vary and are listed on the individual show purchase page.
Digital Delivery is only valid if purchased from Belly Up, Aspen. Do not purchase Digital Delivery from unauthorized sources as they may be lost, stolen or counterfeit, and if so, are VOID. Additionally, we may be unable to verify that tickets purchased from third parties are valid and in such case, you may not be permitted entrance to the show. Remember, there are no exchanges or refunds.
DIGITAL DELIVERY OF TICKETS WILL BE ON A DELAY FOR THIS SHOW and will be emailed to the address you provided prior to the show date, typically within a week of the show, but may be as late as the day prior. You will receive an individual email for each ticket purchased with your ticket attached. Each ticket must be readily available on your phone or printed and brought to the event. All WILL CALL tickets will be released to the original buyer or authorized transferee only upon presentation of a valid picture ID.
Orders exceeding published limits, or any tickets purchased for resale, or the resale or attempted resale of any ticket at a price greater than face value is a violation of our ticketing policy and we may cancel a portion or all of such orders without notice. Ticketing violations may result in the prohibition of future ticket purchases. In each such case, service fees charged for the purchase of tickets may be retained by Belly Up, Aspen.
Supporting acts may be changed or cancelled without notice, however such change or cancellation is not grounds for refunds.
Pink Martini
In 1994 in his hometown of Portland, Oregon, Thomas Lauderdale was working on political campaigns, with the intention of eventually running for office. Drawing inspiration from music from all over the world – crossing genres of classical, jazz, and old-fashioned pop – and hoping to appeal to conservatives and liberals alike, he founded the "little orchestra" Pink Martini "to bring a little bit of "Breakfast at Tiffany's" to political fundraising for causes such as civil rights, affordable housing, cleaning up the Willamette River, libraries and education, among others.

One year later, Lauderdale called China Forbes, a Harvard classmate who was living in New York City, and asked her to join Pink Martini. They began to write songs together. Their first song – "Je ne veux pas travailler" or "I don't want to work" – became an overnight sensation in France, was nominated for Song of the Year at France's Victoires de la Musique Awards, and to this day remains a mantra for striking French workers. "Pink Martini is an American band, but because we spend a lot of time abroad we have the incredible diplomatic opportunity to represent a broader, more inclusive America . . . the America that is the most heterogeneously-populated country in the world. Except for Native Americans, all of us are immigrants from every country, of every language, of every religion," says Lauderdale.

Featuring a dozen musicians with songs in over 25 languages, Pink Martini performs its multilingual repertoire on concert stages and with symphony orchestras throughout Europe, Asia, Greece, Turkey, the Middle East, Northern Africa, Australia, New Zealand, and North and South America. Pink Martini made its European debut at the Cannes Film Festival in 1997 and its orchestral debut with the Oregon Symphony in 1998 under the direction of Norman Leyden. Since then, the band has gone on to play with more than 70 orchestras around the world, including multiple engagements with the Los Angeles Philharmonic at the Hollywood Bowl, the Boston Pops, the National Symphony at the Kennedy Center, the San Francisco Symphony, the Chicago Symphony, the Minnesota Orchestra, the Seattle Symphony, the Cleveland Orchestra, and the BBC Concert Orchestra at Royal Albert Hall.

Other appearances include the grand opening of the LA Philharmonic's Frank Gehry-designed Walt Disney Concert Hall, with return sold-out engagements for New Year's Eves in 2003, 2004, 2008, 2011, 2014 and 2016; four sold-out concerts at Carnegie Hall; the opening party of the remodeled Museum of Modern Art in New York City; three sold out shows with the Sydney Symphony at the renowned Sydney Opera House; sold-out concerts at Royal Albert Hall in London in 2011, 2013 & 2016, sold-out concerts at Paris' legendary L'Olympia Theatre in 2011 and 2016; and Paris' fashion house Lanvin's 10-year anniversary celebration for designer Alber Elbaz in 2012. In 2014, Pink Martini was inducted into both the Hollywood Bowl Hall of Fame and the Oregon Music Hall of Fame.

Television appearances include The Late Show with David Letterman, Late Night with Conan O'Brien, The Tonight Show with Jay Leno, Later with Jools Holland, and a feature on CBS Sunday Morning. The band created a nationally broadcast 2015 NPR holiday concert special, Joy to the World: A Holiday Spectacular, and has been featured on multiple New Year's Eve broadcasts on NPR's Toast of the Nation.

The band has collaborated with numerous artists, including Phyllis Diller, Jimmy Scott, Carol Channing, Rita Moreno, Jane Powell, Rufus Wainwright, Japanese legends Saori Yuki and Hiroshi Wada, Henri Salvador, Chavela Vargas, New York performer Joey Arias, puppeteer Basil Twist, Georges Moustaki, Michael Feinstein, Charo, Doc Severinsen, filmmaker Gus Van Sant, Courtney Taylor Taylor of The Dandy Warhols, clarinetist and conductor Norman Leyden, Italian actress and songwriter Alba Clemente, DJ Johnny Dynell and Chi Chi Valenti, Faith Prince, Mamie Van Doren, the original cast of Sesame Street, the Portland Youth Philharmonic, Mariachi Aztlan of Pueblo High School in Tucson, Arizona; the Jefferson High School Gospel Choir; the Royal Blues of Grant High School; the Pacific Youth Choir of Portland, Oregon; and Karen Early (who played sleigh bells and crash cymbals on the band's holiday album and the band's collaborative album with Japanese singer Saori Yuki, respectively).

One of the most significant moments in the band's 23-year history began to formulate at a luncheon for the Central Oregon-based art camp Caldera at the Portland Art Museum in 2010. In his introduction of Myrlie Evers-Williams -- civil rights leader and widow of Medgar Evers, who was assassinated in Jackson, Mississippi in 1963 -- Dan Wieden revealed that, as a young person growing up in Mississippi, Myrlie was a classical pianist with dreams of playing Carnegie Hall. Two years later, Pink Martini invited Myrlie -- at age 79 -- to realize her childhood dream. In a sparkling red dress provided by Ikram Goldman of Chicago, and with her family and friends in the audience, Myrlie not only played the piano; she sang George Gershwin's "The Man I Love" to an instant standing ovation. Myrlie's debut was documented by filmmaker Albert Maysles, of Grey Gardens fame.

In 2016, Pink Martini released its ninth studio album, Je dis oui!, featuring singers China Forbes, Storm Large, Ari Shapiro, fashion guru Ikram Goldman, civil rights leader Kathleen Saadat, and Rufus Wainwright. The album's 15 songs span eight languages (French, Farsi, Armenian, Portuguese, Arabic, Turkish, Xhosa and English), and affirm the band's 23-year history of global inclusivity and collaborative spirit.