Rae Sremmurd
with The Reminders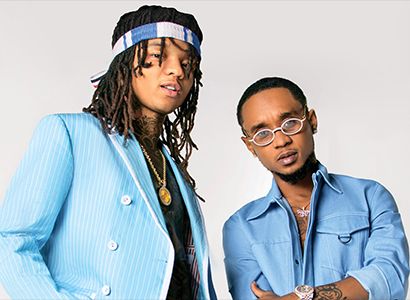 Rae Sremmurd
with The Reminders
| | | |
| --- | --- | --- |
| Doors: | | 9:30 pm |
| Start: | | 10:00 pm |
| Age: | | Ages 21+ Only |
| Price: | | $145 GA / $295 Reserved |
Hip-hop duo made up of brothers Slim Jxmmi and Swae Lee. Hit songs include "Black Beatles" ft. Gucci Mane, "Swang," and "Come Get Her" + dubbed "rowdy, free-spirited, super-catchy songs" by Rolling Stone.
Buy Tickets
Event Information
Genre: Rap, Hip Hop
21+ w/ valid photo ID
Reserved seating is available for $295 and guarantees a seat in the reserved section. If necessary groups will be paired together at tables. Seating is based on time of purchase and the configuration of groups.
There is a ticket limit of 4 GA OR 6 RESERVED per customer based on address, credit card, email address, or other information. Multiple accounts may not be used to exceed these ticket limits. Limits for each show may vary and are listed on the individual show purchase page.
Digital Delivery is only valid if purchased from Belly Up, Aspen. Do not purchase Digital Delivery from unauthorized sources as they may be lost, stolen or counterfeit, and if so, are VOID. Additionally, we may be unable to verify that tickets purchased from third parties are valid and in such case, you may not be permitted entrance to the show. Remember, there are no exchanges or refunds.
DIGITIAL DELIVERY OF TICKETS WILL BE ON A DELAY FOR THIS SHOW, and will be emailed to the address you provided prior to the show date, typically within a week of the show, but may be as late as the day prior. This gives us the ability to monitor for purchases which may not adhere to our ticket policies. You will receive an individual email for each ticket purchased with your ticket attached. Each ticket must be readily available on your phone or printed and brought to the event. All WILL CALL tickets will be released to the original buyer or authorized transferee only upon presentation of a valid picture ID.
Orders exceeding published limits, or any tickets purchased for resale, or the resale or attempted resale of any ticket at a price greater than face value is a violation of our ticketing policy and we may cancel a portion or all of such orders without notice. Ticketing violations may result in the prohibition of future ticket purchases. In each such case, service fees charged for the purchase of tickets may be retained by Belly Up, Aspen. We reserve the right to change the delivery method from Digital Delivery to Will Call for release on the night of the show.
Supporting acts may be changed or cancelled without notice, however such change or cancellation are not grounds for refunds.
Rae Sremmurd
Tupelo, Mississippi. It's the home of Elvis Presley, but even for those clued in on that fun fact, it's safe to say that few, if any, know much more about the city. Nestled in the northeast corner of the Magnolia State, and with a population of just over 35,000, indeed, Tupelo, like most small metropolises, is easy to overlook. Rae Sremmurd - pronounced "Ray-Shrim-er," consisting of real life brothers Slim Jxmmi and Swae Lee, the first act signed to multi-platinum producer Mike WiLL Made-It's Ear Drummer Records - is out to change that.

Slim Jxmmi and Swae Lee were born in California, but moved to Tupelo at an early age, where they were raised in the notorious Ida Street housing projects, some of the worst, most crime-ridden in the state. Making matters worse, Sremmurd's parents split while the brothers were still young, a devastating turn of events that found the brothers, over multiple stretches, seeking shelter in abandoned homes scattered throughout the area. For a city with little history outside of its musical heritage, and in a state where two young kids short on role models could look up to the growing star power of in-state hero David Banner, music, from a young age, became a way for Jxmmi and Lee to escape the desperation of their surroundings. "When we were growing up, it was just about perseverance," says Slim Jxmmi, before flipping a quote made famous by Stark Trek character Richard Wakinyan. "Regardless of the situation, we couldn't let the haters win."

The movement started locally, with the brothers throwing parties and shows around town, often in the same abandoned buildings where they once stayed. The pair always had larger ambitions, though, and so the brothers, natural performers since elementary school, taught themselves how to record, make beats, and DJ, building enough buzz to earn an appearance on the popular "Wild Out Wednesdays" segment during BET's music video countdown show, 106th & Park. Back home, Lee and Jxmmi earned the attention of fellow Tupelo native P-Nazty, who also happens to be a producer signed to super producer Mike WiLL Made-It's Eardrummers Entertainment production team. P-Nazty introduced Rae Sremmurd to Mike WiLL, and the multi-platinum producer (Rihanna, Jay Z, Kanye West, 2 Chainz, Future, Juicy J) was instantly impressed by the brothers' energy and the quality of their music, signing the duo to his label, Ear Drummer Records. "When I met them," recalls WiLL, "they just had a real young dope energy about them. So me and the Ear Drummer team locked in the studio like we normally do, had a lot of fun, and cooked up some amazing music. This is just the beginning of our working relationship, and they've got a bright future. I believe in them."

Rae Sremmurd's first single under the Ear Drummer Records, "No Flex Zone," was a breakout for the duo, becoming a cultural touchstone throughout 2014 and entering Billboard's Hot 100 and Top 40, peaking at number 36, while earning the brothers a performance on the 2014 BET Hip-Hop Awards, along with a remix from Nicki Minaj and Pusha T, and co-signs from the likes of Kim Kardashian, Justin Timberlake, Juicy J, and plenty more. The follow-up, "No Type," has proved even bigger, peaking at number 16 on Billboard's Top 40 charts and earning the duo their first late night appearance, with a performance (a medley of "No Flex Zone" and "No Type") on The Tonight Show. To start 2015, Rae Sremmurd released their highly anticipated first album, SremmLife, with a top 5 debut on the Billboard Top 200 and a number 1 debut on Billboard Hip-Hop, and have since had "Throw Sum Mo," featuring Nicki Minaj & Young Thug, emerge as their third consecutive single to break into the top 10 at urban radio and second consecutive single, following "No Type," to peak at #1. With each new success, Swae Lee and Slim Jxmmi have managed to keep a level head, focused simply on showing the world what two young brothers from Tupelo can achieve. "It's the energy, that's what #SremmLife is all about" says Swae Lee. "We bringing the fun back to music!"
The Reminders
The Reminders are a rare and remarkable musical duo seamlessly blending soulful sounds and roots music with insightful messages and thoughtful lyrics. The group consists of Brussels-born emcee Big Samir and Queens-born emcee/ vocalist Aja Black, a collective creative force that's hard to beat. Big Samir weaves intricate rhythmic patterns with a bilingual French/English flow, displaying his street-smart credibility in both his lyrics and cool demeanor. This is beautifully complimented by Aja Black's confident delivery, diverse cadences, and unique vocal stylings. The two have an undeniable magical chemistry as they share more than lyrical abilities and stages; the couple shares a partnership in both music and life as Samir and Aja have been married for almost a decade.

Releasing their debut album 'Recollect' in 2008 and their latest "Born Champions" in 2012, the Reminders have been recognized and applauded for their work internationally through concerts, tours, music awards, TV and radio appearances, and their incredible and dedicated fan base. Having shared the stage with artists such as Les Nubians, Snoop Dogg, Fishbone, Barrington Levy, Nas, Mos Def, Big Boi, KRS-One, Rakim, K'Naan, and others, the Reminders have established a firm place in today's ever-evolving music scene, garnering international acclaim while paving a path all their own. Beyond performances and appearances, the duo is constantly and actively engaged with community organizations, schools, and universities delivering workshops, talks, and specially catered performances.

More than a shade of the same color that we see time and time again, The Reminders transcend the bounds of what is expected. Their stage presence and high energy shows leave crowds in awe the world over, allowing the duo to uplift and entertain all at once. Their unique mashup of razor sharp rhymes; raw, soulful vocals; and reggae-tinged hip hop beats form the perfect backdrop for their relevant and inspiring themes, leaving a lasting impression on listeners with audiences always wanting more. The Reminders take their hip hop foundation and move it beyond genre, time, and space to create a global musical experience that is classic and speaks to all those willing to participate.