The Meeting: The Pharcyde
with Snowboarder Magazine Coldfront Tour Films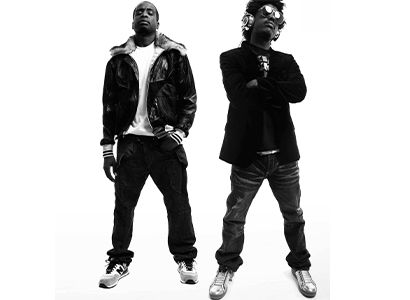 The Meeting: The Pharcyde
with Snowboarder Magazine Coldfront Tour Films
| | | |
| --- | --- | --- |
| Doors: | | 8:30 pm |
| Start: | | 9:00 pm |
| Age: | | All ages |
| Price: | | $25 GA |
Certified Gold album 'Bizarre Ride II the Pharcyde' Billboard dubbed "an indelible document of golden age hip-hop" + Snowboarder Magazine Coldfront Tour presents films "Everybody, Everybody" and "Jamie Anderson's Unconditional"
Buy Tickets
Event Information
Genre: Alternative Hip Hop
ALL AGES: 18+ with valid photo ID. Under 18 must be accompanied by a parent or guardian.
There is a ticket limit of 6 GA per customer based on address, credit card, email address, or other information. Multiple accounts may not be used to exceed these ticket limits. Limits for each show may vary and are listed on the individual show purchase page.
Digital Delivery is only valid if purchased from Belly Up, Aspen. Do not purchase Digital Delivery from unauthorized sources as they may be lost, stolen or counterfeit, and if so, are VOID. Additionally, we may be unable to verify that tickets purchased from third parties are valid and in such case, you may not be permitted entrance to the show. Remember, there are no exchanges or refunds.
DIGITIAL DELIVERY OF TICKETS WILL BE ON A DELAY FOR THIS SHOW, and will be emailed to the address you provided prior to the show date, typically within a week of the show, but may be as late as the day prior. This gives us the ability to monitor for purchases which may not adhere to our ticket policies. You will receive an individual email for each ticket purchased with your ticket attached. Each ticket must be readily available on your phone or printed and brought to the event. All WILL CALL tickets will be released to the original buyer or authorized transferee only upon presentation of a valid picture ID.
Orders exceeding published limits, or any tickets purchased for resale, or the resale or attempted resale of any ticket at a price greater than face value is a violation of our ticketing policy and we may cancel a portion or all of such orders without notice. Ticketing violations may result in the prohibition of future ticket purchases. In each such case, service fees charged for the purchase of tickets may be retained by Belly Up, Aspen. We reserve the right to change the delivery method from Digital Delivery to Will Call for release on the night of the show.
Supporting acts may be changed or cancelled without notice, however such change or cancellation is not grounds for refunds.
Pharcyde
Nothing measures success more accurately, than longevity.

In the early 90's, when gangsta' rap consumed the airwaves, and the majority of West Coast rappers strapped on their Locs, Chuck Taylor's & Ben Davis', The Pharcyde decidedly maintained a willfully weird vision. Opting to stay true to themselves with their left field but still South-Central sensibility, rap had seen few groups so self-deprecating and so smart, four visionary rappers adroitly able to split the difference between helium-voiced and hard-core.

Listening to "Bizarre Ride II the Pharcyde" two full decades after its release, its sense of timeliness is unmistakable. Every song on the album inverts a hoary hip-hop cliché. With classics like "Oh Shit," "Otha Fish", "Ya' Mama," and hit single, "Passing Me By," it is not surprising that it shipped over a million units, garnered comparisons to De La Soul and Tribe Called Quest, and everyone from Pitchfork Media to The Source has hailed it as one of the greatest albums ever made.

Speaking on the passage of time, their second release "LabCabInCalifornia" has revealed exactly how far-reaching The Pharcyde's vision was. From enlisting a young and then unknown James Yancey aka J DILLA to produce beats, the classic "Runnin" to collaborating with director Spike Jonze ("Being John Malkovich" "Adaptation") on the video for "Drop," it has consistently reinforced their steadfast refusal to tread familiar artistic grounds.

Today, The Pharcyde is still performing and touring the globe. They continue to hone their individual projects and abilities yet carry on the name & legacy in its original fashion. They still seduce their audience with the same boyish charm that founded them at the beginning. Now, it's combined with the knowledge that has been bestowed upon them as men who have taken on, and rose to the challenge of the rap game.

The end result of all this hard work is a band that's still influencing the hip hop artists and sounds crowding our radio waves today and will continue to for many years to come.
Everybody, Everybody
An action based ensemble film starring some of the best up-and-coming snowboarders riding and filming today. Featuring Gabe Ferguson, Cody Warble, Benny Milam, Reid Smith, Cooper Whittier, Dan McGonagle and many more
Jamie Anderson's Unconditional
As a daughter of the Sierra, Jamie Anderson grew up on the slopes of the South Shore of Lake Tahoe. Her prodigious talents as a pre-teen snowboarding savant made her a podium contender from the moment she arrived at the X Games in Aspen more than a decade ago. Since then, Jamie has amassed more X Games and Olympic medals than any other woman in history. Yet, being the best competitive snowboarder of all time is an asterisk that Jamie leaves behind as she pursues even greater riding challenges far from the contest circuit. Powder, slush, corduroy and pillows, Unconditional presents the wide pan of Jamie's 2019 season as she sets out to expands her horizon beyond the contest bib.