The Teskey Brothers - NO COVER BEFORE 9PM
with Moorea Masa & The Mood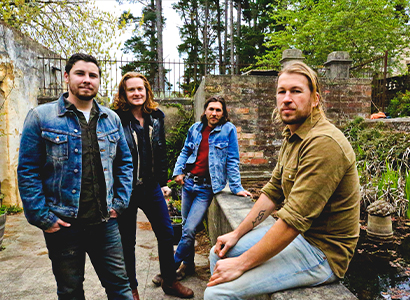 The Teskey Brothers - NO COVER BEFORE 9PM
with Moorea Masa & The Mood
| | | |
| --- | --- | --- |
| Doors: | | 7:30 pm |
| Start: | | 8:00 pm |
| Age: | | All ages |
| Price: | | $5 (Under 21 $5 surcharge) After 10 GA / $5 After 10pm GA |
Performances at this year's BottleRock, Bonnaroo, and Firefly Music Festival.
NO COVER BEFORE 9PM
Event Information
Genre: blues, soul
ALL AGES: 18+ w/ valid photo ID, under 18 must be accompanied by parent or guardian.
NO COVER until 9pm SHARP.
$5 after that time.
$5 surcharge for under 21.
The Teskey Brothers
Sam and Josh Teskey discovered American soul music of the 1960's via their parents' record collection and were immediately taken. As teenagers, the two brothers jammed night after night in the bungalow behind their family home on the outskirts of Melbourne, devouring the R&B songbook and absorbing the tricks of the blues trade. In their obsession, the pair became accomplished players and soon began writing originals, a process which came naturally to them both.

In 2008, they joined with Liam Gough (drums) and Brendon Love (bass) to form The Teskey Brothers. The group spent the next eight years cutting their teeth in Melbourne city-fringe pubs and backyard party jams, honing the old-school Motown soul sound and working it into something of their own. At last in 2016 the band emerged from their home studio with a self-produced debut album Half Mile Harvest.

The record was released independently in January 2017 and despite a low-key release campaign it immediately gained attention. Community radio latched onto the first single "Pain and Misery" as word quickly permeated Melbourne. Nobody could quite believe this was the work of a bunch of twenty-somethings out of the Yarra Valley and not that of Stax Records alumni in Memphis circa '67. The sound so authentic, the songs so original.

After three sold-out shows to launch the record, it's fair to say Melbourne has fallen hard for The Teskey Brothers. And the word is spreading further afield too with everyone from Peking Duk to Allen Stone singing the band's praises. Surely it won't be long before the rest of the universe catches on.



Moorea Masa & The Mood
Songs have always been there for Moorea Masa (pronounced More-ray-uh Mah-sa), being raised in the musical mecca of Portland, Oregon. The daughter of an Italian immigrant father and an African-American mother born abroad, this singer/songwriter/guitarist has been making music for as long as she can remember. At fifteen, she was already looking for chances to perform by sneaking into local clubs, where she was lovingly adopted into the vibrant community of Portland musicians. Moorea then left to study at the Liverpool Institute for Performing Arts in England, and spent time living in a cave and soaking in flamenco music in Granada, Spain.



Returning home to the Pacific NW, Moorea began her music career in earnest. Not just writing and performing her own original material, she recorded with El Vy and The Decemberists, sang with soul legend Ural Thomas (who appears on her new album), and toured with Allen Stone. As a solo artist, she's garnered major praise from Emily King, Corinne Bailey Rae, Nick Waterhouse, and many more. Now 25 years old, Moorea has been touring with crooner KD Lang, and released her debut album to much praise this past May.



Shine A Light, the new record from Masa, comes from the depths of a sometimes-troubled childhood and expresses a belief that the unexamined life is not worth living. "I'm really sharing my whole heart in this album," says Masa. "This year I've really been digging deep into my history, my own learning lessons, and the state of the world. I feel like I took a light and shined it into all the darkness and beauty that I was too scared to look at." At times bright and hopeful, other times dark and mournful, the record (co-produced by Jeremy Most of Emily King fame) is an exquisitely-crafted gem that reveals a new gleaming facet upon every listen. Topics such as love, loss, hidden pain, and the politics of being a woman are all explored with deft musicianship, clever production, and Masa's flawless voice carrying the songs into our hearts and souls.

"Irresistible and staggeringly beautiful, Masa displays a delicate balance of restraint and raw power."- The Oh Es Tee