Too Many Zooz
with Sixty Minute Men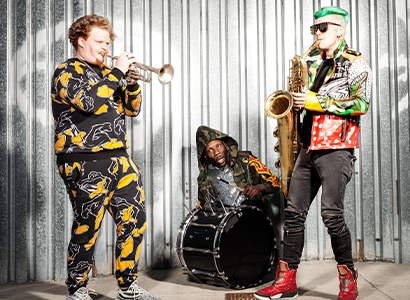 Too Many Zooz
with Sixty Minute Men
| | | |
| --- | --- | --- |
| Doors: | | 8:00 pm |
| Start: | | 8:30 pm |
| Age: | | All ages |
| Price: | | $25 GA / $25 (Under 21 $5 surcharge) GA |
YouTube sensation and brass-house trio known for their unique NYC subway busking videos.
Buy Tickets
Event Information
Genre: Brasshouse
ALL AGES: 18+ with valid photo ID Under 18 must be accompanied by parent or guardian.
$5 surcharge for under 21.
There is a 6-ticket limit for general admission per customer, credit card or email address. Orders exceeding these limits, or any tickets purchased for resale, may have a portion or all of their orders cancelled without notice.
Too Many Zooz
The curious thing about being a fan of brasshouse? You're pretty much talking about being into one solitary but extremely unforgettable band: the amusingly monikered Too Many Zooz.

The musical style was "branded" by drummer King of Sludge, who recognized that there was no worthy existing classification for the New York trio, whose other two members are the equally unclassifiable Leo P (saxophone) and Matt Doe (trumpet).

"Brasshouse is a high energy musical conversation," Matt insists. "Though I honestly don't think there is a good way to describe it in words. It's about many different feelings and sounds and emotions."

Or as KOS so decisively puts it, "I don't really care about what's happening in music -- I just make art that I enjoy making."

It's exactly this indifference to convention and trend that has garnered Too Many Zooz a fanbase that KOS describes as "wide-ranging and fanatical." One of those fans? In 2016, Beyonce asked them to perform with her at the Billboard Music Awards...and it's quite possible they got just as much attention as did she.

After two years, a gazillion live performances and four EPs, their debut album Subway Gawdz (an unsubtle reference to their birth in the underground stations of NYC), was released to enthusiastic acclaim in 2016. Its sound was truly like nothing else, with inescapable grooves that take in dub, soul, funk and ska, utterly exhilarating horn blasts that shoot right up your spine, and, of course, equal doses of fun and attitude.

And right now, TMZ are riding higher than ever, surely poised for the leap into genuinely widespread international recognition that was likley inevitable since they first set foot in an NYC subway station. Indeed, following a deal with Ministry of Sound, their single "Warriors" racked up major play on Radio One (if you think you haven't heard it, when you hear it, you'll quickly realize you already have), followed by high-profile remixes from the likes of Armand Van Helden and KDA.

Then, UK sensation Jess Glynne penned lyrics and added vocals to morph the song into "So Real (Warriors)," which has been generating massive buzz while climbing the European charts. In the meanwhile, a live video for "Car Alarm" has furtively racked up more than 500K views in one week.

But surely signaling their mainstream "arrival"? A Canadian KFC commercial featured the band and their songs -- so don't be surprised if listening to their music suddenly makes you hungry.

Though they've also been up to more serious matters. Leo, in fact, was asked to play at the BBC Proms Charles Mingus tribute at a sold-out Royal Albert Hall in August 2017 -- certainly no small honor.

Yet for all this, the forward plan for Too Many Zooz, is, as ever, constant touring. The reason is simple: it's their outrageous, electrifying live performances that consistently continue to add the numbers to their growing worldwide legion of fans. Autumn 2018 will take them coast to coast, from Seattle to Houston to Philadelphia, and across Europe, with stops in Krakow, Strasbourg and Marseille, amongst others.

"I don't think there's any recording that can do a live performance justice," reckons Matt. "You'll see people of all different colors, creeds, genders, ages, sexuality at our shows. I really can't find a constant between them...besides liking our music -- haha."

But for everything that's happened in the last couple of years, the trio aren't actually all that surprised by their success.

"I always knew we had something special," Leo enthuses. "Thousands of people everyday loved our music...and I knew it would just continue to spread."
Sixty Minute Men
"These guys bring a fresh and exhilarating sound to the stage that is complimented by an energy that is contagious. "
— Denver Discoveries

Joined from around the country, this brethren of musicians have come together with a common interest to create what is now known as "Funk and roll." The Sixty Minute Men's eclectic blend of sounds are purposefully designed to have your feet moving and booty shaking as they are all about that good time life. Just look at that guy sitting in the chair to right of this paragraph, yeah the one flippin' you the bird, that is an actual real-life-low-down funk master in the flesh. Not your average citizen folks. And for that other bruh on the other side, just straight face melters unite! If you are still reading this, click on the "Tour" page and come check out our next show!

Sonny Cruz was born in New Jersey into a military family and lived in many different areas of the United States. This gave Sonny a great appreciation for various different American cultures and the for the music of the various regions in which he lived. Sonny began his musical journey watching Uncles, Cousins, and Grandparents performing music and also, by singing in the church choir. He studied Percussion throughout school and also sang with many school choirs and ensembles. Immediately after graduation, he started studying under Dr. L. Scott Martin of Julliard, subsequently receiving a certificate of achievement under Dr. Martin through the Academy Of The Arts.

Soon after, Sonny traveled the country playing music anywhere and everywhere he could, ultimately moving to Colorado to live with family and to use his experience in the emerging Colorado Music scene. Finding minimal success with a few different Colorado groups, Sonny answered an ad to audition with the Sixty Minute Men and they joined forces to record and tour. Sonny claims his main influences to be James Brown, Rick James, Steve Perry and Michael McDonald.

Self-taught guitarist, Zach was born May 28th, 1988 in Huntington, New York. From early on, Zach had a strong affinity towards music of all kinds, and it wasn't long before he discovered he had a unique and intense passion for the guitar. Playing with several groups on Long Island as well as in Colorado, he has polished his individual style over the course of 16 years. Zach has guided his personal form with help from a plethora of influences, some of which include: Jimmy Page, Mark Knopfler, David Gilmour, John Frusciante, and Eric Clapton. Robinson prides himself on his ability to conform to a vast variety of musical styles and genres, his favorites being Rock, R&B, Reggae, Funk, and the Blues.

Andrew Fox was born in Athens, Ohio where he began his musical education early on. Grounded with 17 years of experience, Fox studied the electric and upright bass at both Ohio University and Jorma Kaukonen's Fur Peace Ranch, an education that provided him with a vast understanding of the multitude of genres and styles of music. Fox then used his musical education in tandem with a strong desire to find other musicians who shared his passion in order to begin performing for anyone who'd listen. Fox initially performed all across Ohio, both in the studio and on the road, with several groups in Athens, Columbus, Cincinnati, and Cleveland. His desire to deepen his musical experiences brought him to Boulder, where he experimented with a few bands before finding his place in The Sixty Minute Men. His major influences include Jaco Pastorious, Les Claypool, John Entwistle, and Jack Casady.

Born in the summer of '83 , Nick grew up in the cozy southern town of Ruston, Louisiana. Musically inclined from a young age, Summers was influenced by the sounds of New Orleans, an eclectic blend of swamp rock, funk jazz, and the blues. Nick remained in Louisiana through high school and college, with music being a constant throughout the years. Summers moved to Austin, Texas shortly after college to join the nationally touring artist Papa Mali. He played with various other groups in Austin before moving to Boulder, Colorado to further his musical career. After experimenting with different bands, he then found his place in what would become the Sixty Minute Men.

Born in New York City, Jonathan was raised on jazz, blues, classic soul, and R&B. Taking an interest in music from an early age, he began his musical training at age 11. Inspired to learn saxophone by iconic cartoon characters Lisa Simpson and Bleeding Gums Murphy, it quickly became a passion that he has fervently pursued ever since. After playing in roughly 30 ensembles while working toward completing his Jazz and African American Music Studies degree from the University of Massachusetts Amherst and spending two years learning pro audio and producing, he joined the Sixty Minute Men shortly after moving to Boulder in January 2015. As a University of Massachusetts graduate, joining the Minute Men almost felt like destiny.

He has had the pleasure of tracking and mixing their most recent albums and looks forward to finishing the upcoming album in 2018.