Chromeo DJ SET
with Opening Act TBA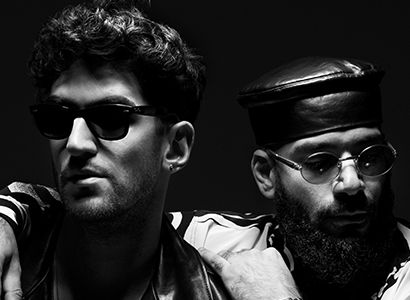 Chromeo DJ SET
with Opening Act TBA
| | | |
| --- | --- | --- |
| Doors: | | 9:00 pm |
| Start: | | 9:30 pm |
| Age: | | All ages |
| Price: | | $35 GA / $65 Reserved |
Most recent album 'Head Over Heels' peaked at No. 1 on Billboard's Top Dance/Electronic Albums Chart + is "another deep dive into the retro disco funk that made them famous." - Consequence of Sound
Buy Tickets
Event Information
Genre: Electro
ALL AGES: 18+ w/ valid photo ID, under 18 must be accompanied by parent or guardian.
Reserved seating is available for $65 and guarantees a seat in the reserved section. If necessary groups will be paired together at tables. Seating is based on time of purchase and the configuration of groups.
There is a ticket limit of 6 GA OR 6 RESERVED per customer based on address, credit card, email address, or other information. Multiple accounts may not be used to exceed these ticket limits. Limits for each show may vary and are listed on the individual show purchase page.
Digital Delivery is only valid if purchased from Belly Up, Aspen. Do not purchase Digital Delivery from unauthorized sources as they may be lost, stolen or counterfeit, and if so, are VOID. Additionally, we may be unable to verify that tickets purchased from third parties are valid and in such case, you may not be permitted entrance to the show. Remember, there are no exchanges or refunds.
DIGITAL DELIVERY OF TICKETS WILL BE ON A DELAY FOR THIS SHOW and will be emailed to the address you provided prior to the show date, typically within a week of the show, but may be as late as the day prior. You will receive an individual email for each ticket purchased with your ticket attached. Each ticket must be readily available on your phone or printed and brought to the event. All WILL CALL tickets will be released to the original buyer or authorized transferee only upon presentation of a valid picture ID.
Orders exceeding published limits, or any tickets purchased for resale, or the resale or attempted resale of any ticket at a price greater than face value is a violation of our ticketing policy and we may cancel a portion or all of such orders without notice. Ticketing violations may result in the prohibition of future ticket purchases. In each such case, service fees charged for the purchase of tickets may be retained by Belly Up, Aspen.
Supporting acts may be changed or cancelled without notice, however such change or cancellation is not grounds for refund
Chromeo
World leaders, powerful CEOs, and other fat cats could learn a lesson or two from electrofunk duo Chromeo, namely: know thyself, know thy vibe, and stay thy course. The rest of the population will catch up. Indeed, Chromeo is really good at being, well, Chromeo. The mission, the package, the vision — it's been a straight shot of pure intentionality from the jump. Funk a game plan, Montreal natives Dave 1 and P-Thugg had a ten-year battle strategy: from cult 80s fetishists on 2004's She's In Control to indie blog darlings on 2007's Fancy Footwork, to international touring sensations on 2010's Business Casual, to bona fide pop stars on 2014's White Women.

And guess what? Pee (still looking a smooth criminal in a Coogi) and Dave (ever the Semitic/Gallic heartthrob in tight pants) are back. Early 2018 will mark the release of the Funklordz' fifth studio LP: Head Over Heels. The album not only elevates Chromeo's blueprint of ass-targeting beats, melodic honey and clever lyrics about the foibles of contemporary love…it augments it with unprecedented conceptual cohesion, booming sonics and more collaborations than ever before. Session legends such as Pino Palladino and Jesse Johnson (The Time, D'Angelo) coexist alongside the likes of DRAM and The-Dream on this intricate and ambitious ode to funk music, orchestrated by modern day masters of the genre.

Consider the first single "Juice", a hilarious paean to female power set to a buoyant California bop: it's Chromeo at its biggest and baddest.
DJ Naka G
Naka G has been a master and disaster at his craft since 1995. Always having love and interest for the art of the DJ, Naka picked up a set of used Technics 1200s and possibly the worst mixer ever and the rest, as they say, is history. Never sticking to one type of music, Naka believes in working the crowd with an open format. "I don't ever show up with a set..." Naka has said. "I just show up with an open mind, feel out the crowd and let the music do the rest." Naka is an accomplished resident DJ for the Summer and Winter X Games, the Vancouver 2010 Olympic Winter Games, the Burton US Open Snowboard World Championships and the Burton Canadian Open, a resident of the former Jeep King of the Mountain/48STRAIGHT Tour and has also spun for many other action sport events including, The Ski Tour, Crankworx, The Aspen/Snowmass Open, Aspen/Snowmass Spring Jam and ThanksJibbing, KickAspen Big Air, FIS World Cup and The Red Bull SnoCross Big Air. Naka has also opened at live concerts for the likes of DJ Z-Trip, Mixmaster Mike, Junkie XL, Swollen Members, Michael Franti and Spearhead, Steel Pulse, Method Man, The Roots, The Pharcyde, Ozomatli, Ice Cube, Blackalicious, The 2Live Crew, The Wailers, Stephen and Damian Marley, Naughty By Nature, Slightly Stoopid, The Hood Internet, Thievery Corporation, DJ Vice, DJ Logic, Pretty Lights, Guru and Jazzmattaz, Common, Nas, Grandmaster Flash, Santogold and Trevor Andrew, The Beatnuts, De La Soul, Faux Punk, Boombox, Rahzel and DJ JS1, Shiny Toy Guns, Trouble Andrew, Kid Koala, Team Canada DJs, Pitbull, Remix Artist Collective.