Jamestown Revival
with Ian Noe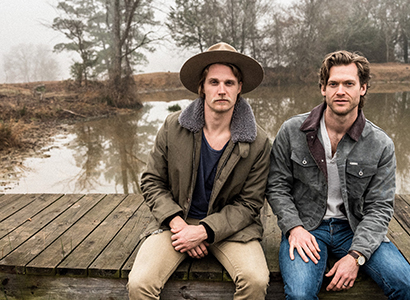 Jamestown Revival
with Ian Noe
| | | |
| --- | --- | --- |
| Doors: | | 7:00 pm |
| Start: | | 8:00 pm |
| Age: | | All ages |
| Price: | | $25 GA / $40 Reserved |
American-rock duo whose album 'Utah' iTunes named Best of 2014: Singer-Songwriter Album of the Year.
Buy Tickets
Event Information
Genre: Folk Rock
ALL AGES: 18+ with valid photo ID. Under 18 must be accompanied by a parent or guardian.
Reserved seating is available for $40 and guarantees a seat in the reserved section. If necessary groups will be paired together at tables. Seating is based on time of purchase and the configuration of groups.
There is a 6-ticket limit per customer, credit card or email address. Orders exceeding these limits, or any tickets purchased for resale, may have a portion or all of their orders cancelled without notice.
Jamestown Revival
At the heart of Jamestown Revival is a friendship that spans over a decade.

Jonathan Clay and Zach Chance grew up together in the small Texas town of Magnolia. From a young age, they shared a love for music as well as the outdoors. About an hour north of Magnolia TX, there was some old family land with a dilapidated ranch house where they spent the better part of their adolescence.

At one point or another, music from Creedence Clearwater Revival and The Everly Brothers, to fellow Texans Willie Nelson, Guy Clark, and Stevie Ray Vaughan found it's way through an old pair of speakers that sat on the back porch. The pair spent the day exploring that thousand-acre plot of land, and when the sun went down they took to the records of the songwriters and bands that inspired them. At the age of 22, they moved to Austin and began to craft a sound of their own. Deeply rooted in harmony, they merged the sounds of the South with classic American, and Western rock.

Looking for adventure, as well as a change of pace, they eventually made the decision to head west and make the move to Los Angeles, CA.

Throughout the course of the next 12 months, they wrote what will be Jamestown Revival's first full-length album. It's heavily autobiographical, telling the stories of their adventures, their discomforts, and their observations. In order to capture the spirit of the music, the two found a log cabin high within the Wasatch Mountains of Utah. The pair, along with their band and engineer, set out to convert it in to a temporary recording studio. With wild moose right outside the window, and aspen leaves spinning in the wind, they tracked 14 songs. Performed live, with no headphones, and entirely to tape, the process captured the moments in the room.

Now back L.A., the duo are planning to release their music and gear up for life back out on the road. These days, they're exploring far more than just a thousand acres…
Ian Noe
Ian Noe (born May 9, 1990) is an American singer-songwriter from Beattyville, KY.It's said that Noe had a guitar in his hand from an early age. Brought up on the great ones of folk, Bob Dylan, Arlo Guthrie, John Prine, and others, Noe developed a knack for acoustic roots music. He began playing in local talent shows, school assemblies, and festivals.It was in the early part of 2007 that Noe began writing music, and it was quickly evident he had a great ability to tell stories of his own through music. He entered the Appalachian StarSearch in Hazard on October 20, 2007, and won the grand prize singing his original song Don't Let The Morning Bring Ya Down. Due to that win, Noe was invited to perform at a Rhonda Vincent concert in Hyden a few days later.He began working on more songs and began recording for his first album in mid November. The process was quick, as he had all 10 songs recorded in a little over a month. He wrote and performed every note on the disc, Ian Noe.After the tragic events at Virginia Tech in Blacksburg, Virginia in April of 2007, Noe wrote a song dedicated to the victims of the tragedy. He played this song, Sweet Virginia for Virginia Tech students in April 2008 on the anniversary of the shooting.In June 2008, Noe won first place in the State FFA Talent Competition in Louisville, Kentucky.Noe was also named as one of the five finalists in the Boston Folk Festival Songwriting Competition.