Stephen Marley
with DJ Shacia Payne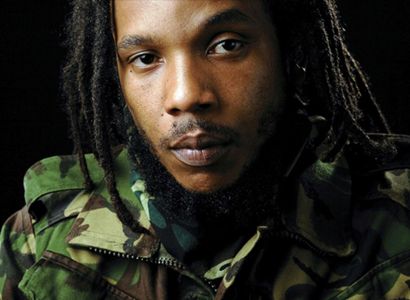 Stephen Marley
with DJ Shacia Payne
| | | |
| --- | --- | --- |
| Doors: | | 8:30 pm |
| Start: | | 9:00 pm |
| Age: | | All ages |
| Price: | | $36 GA / $61 Reserved |
Eight-time Grammy Award Winning son of Bob Marley + former member of Ziggy Marley and the Melody Makers
Buy Tickets
Event Information
Genre: Reggae
ALL AGES: 18+ with valid photo ID. Under 18 must be accompanied by a parent or guardian.
Reserved seating is available for $61 and guarantees a seat in the reserved section. If necessary groups will be paired together at tables. Seating is based on time of purchase and the configuration of groups.
There is a ticket limit of 6 GA OR 6 RESERVED per customer based on address, credit card, email address, or other information. Multiple accounts may not be used to exceed these ticket limits. Limits for each show may vary and are listed on the individual show purchase page.
Digital Delivery is only valid if purchased from Belly Up, Aspen. Do not purchase Digital Delivery from unauthorized sources as they may be lost, stolen or counterfeit, and if so, are VOID. Additionally, we may be unable to verify that tickets purchased from third parties are valid and in such case, you may not be permitted entrance to the show. Remember, there are no exchanges or refunds.
DIGITAL DELIVERY OF TICKETS WILL BE ON A DELAY FOR THIS SHOW and will be emailed to the address you provided prior to the show date, typically within a week of the show, but may be as late as the day prior. You will receive an individual email for each ticket purchased with your ticket attached. Each ticket must be readily available on your phone or printed and brought to the event. All WILL CALL tickets will be released to the original buyer or authorized transferee only upon presentation of a valid picture ID.
Orders exceeding published limits, or any tickets purchased for resale, or the resale or attempted resale of any ticket at a price greater than face value is a violation of our ticketing policy and we may cancel a portion or all of such orders without notice. Ticketing violations may result in the prohibition of future ticket purchases. In each such case, service fees charged for the purchase of tickets may be retained by Belly Up, Aspen.
Supporting acts may be changed or cancelled without notice, however such change or cancellation is not grounds for refunds.
Stephen Marley
The second son of Bob and Rita Marley, eight time Grammy winning musician and producer Stephen was born on April 20, 1972; he began his career as a precocious six-year old singing, dancing and playing percussion with his siblings in the group The Melody Makers whose first single "Children Playing in The Streets" was produced by their father in 1979 and released on Tuff Gong, the label founded by Bob in the late 60s. While still a teenager he assisted in the production of The Melody Makers' albums including their three Best Reggae Album Grammy winners "Conscious Party" (Virgin Records, 1989) "One Bright Day" (Virgin Records, 1990) and "Fallen Is Babylon" (Elektra Entertainment, 1998).

In 1993 Ziggy and Stephen founded Ghetto Youths International as a means of controlling their own music and helping upcoming artists. Stephen's earliest solo production efforts for Ghetto Youths International includes his late grandmother's (Cedella Booker) album "My Altar", followed in 1995 by the Ziggy Marley and The Melody Makers single "Works To Do" and younger brother Damian's "10,000 Chariots". In 1996 Damian released his debut album "Mr. Marley", on the Ghetto Youths imprint, on which Stephen played several instruments and wrote most of the songs, as well as producing the album.

The first project that brought Stephen's production capabilities widespread attention was "Chant Down Babylon", where he audaciously manipulated his father's original vocal outtakes from the 1970s Island Records' sessions, splicing them into duets with hip-hop and R&B artists, while updating the Wailers' richly textured one-drop rhythms with an assortment of samples, loops and overdubs. "Chant Down Babylon" achieved its objective of bringing Bob's music to a new generation of fans, earned a Grammy nomination, was certified Gold by the Recording Industry Association of America and has sold more than one million copies worldwide.

Stephen's hip-hop infused dancehall beats were far more fluid and complex on Damian's 2001 album "Half Way Tree" (Ghetto Youths/Motown), demonstrating Stephen's equal dexterity in creating rugged roots reggae rhythms, which supported the well-crafted, substantial lyrics and Damian's vocal flow. "Half Way Tree" yielded several hits in Jamaica, and internationally, including "More Justice" and "It Was Written" (featuring Capleton) and won the 2002 Grammy for Best Reggae album.

Stephen produced and contributed vocals to Damian's single "Welcome to Jamrock", the biggest reggae song of 2005 and still very popular today. Released in September 2005, "Welcome To Jamrock" (Tuff Gong/Ghetto Youths/Universal Republic) entered the Billboard Top 200 Albums Chart at No. 7, a record setting opening week for a reggae artist; it was certified Gold and won the 2006 Reggae Album Grammy while the single was honored for the Best Alternative Hip Hop performance, another first for a Jamaican artist.

The success of "Welcome to Jamrock" increased the anticipation surrounding the release of Stephen's first solo effort- "Mind Control" –which won a Grammy for Best Reggae Album in 2007. In 2008, Marley released a refreshing version of the hit album with an acoustic version that gained the artist another Grammy for Best Reggae Album.

In 2011 Stephen released his third solo album- "The Revelation, Pt.1: The Root of Life" that reconfirmed Stephen's expansive capabilities as an affecting vocalist, a versatile lyricist and an accomplished instrumentalist while furthering his renown as an ingenious producer.

Stephen continued to showcase his talent for navigating between genres by effortlessly blending reggae with soul, hip hop and electronic beats on his fourth solo album; "Revelation Part II: The Fruit of Life," released in 2016. A robust reflection of his work, the album features songs with notable artists including; Rakim, Dead Prez, Wyclef Jean, Black Thought, Shaggy, Pitbull, Damian "Jr. Gong" Marley and more.

For the past two years, Stephen and his team worked on the development production and promotion of the annual Kaya Fest. Now in its third year, the Kaya Fest is a music and awareness festival intended to educate the public on the many benefits of Cannabis. In 2019 the festival will expand with showcases in both Florida and Southern California.
DJ Shacia Payne
"Constance Bubble" is the creation of DJ Shacia Päyne, daughter of Stephen Marley. It offers an authentic dancehall experience.