The Floozies
with Mystic Grizzly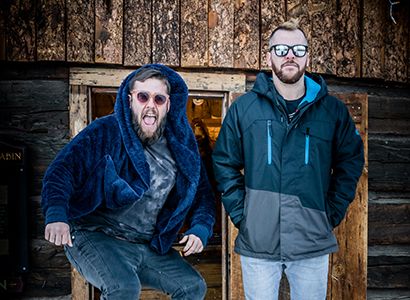 The Floozies
with Mystic Grizzly
| | | |
| --- | --- | --- |
| Doors: | | 9:00 pm |
| Start: | | 9:30 pm |
| Age: | | Ages 18+ Only |
| Price: | | $35 GA / $60 Reserved |
Electro-funk duo brings "the heat for beat junkies and funk fiends alike" (Grateful Web)
Buy Tickets
Event Information
Genre: ‎Electronic
18+ w/ valid photo ID
Reserved seating is available for $50 and guarantees a seat in the reserved section. If necessary groups will be paired together at tables. Seating is based on time of purchase and the configuration of groups.
There is a ticket limit of 6 GA OR 6 RESERVED per customer based on address, credit card, email address, or other information. Multiple accounts may not be used to exceed these ticket limits. Limits for each show may vary and are listed on the individual show purchase page.
Digital Delivery is only valid if purchased from Belly Up, Aspen. Do not purchase Digital Delivery from unauthorized sources as they may be lost, stolen or counterfeit, and if so, are VOID. Additionally, we may be unable to verify that tickets purchased from third parties are valid and in such case, you may not be permitted entrance to the show. Remember, there are no exchanges or refunds.
DIGITIAL DELIVERY OF TICKETS WILL BE ON A DELAY FOR THIS SHOW, and will be emailed to the address you provided prior to the show date, typically within a week of the show, but may be as late as the day prior. This gives us the ability to monitor for purchases which may not adhere to our ticket policies. You will receive an individual email for each ticket purchased with your ticket attached. Each ticket must be readily available on your phone or printed and brought to the event. All WILL CALL tickets will be released to the original buyer or authorized transferee only upon presentation of a valid picture ID.
Orders exceeding published limits, or any tickets purchased for resale, or the resale or attempted resale of any ticket at a price greater than face value is a violation of our ticketing policy and we may cancel a portion or all of such orders without notice. Ticketing violations may result in the prohibition of future ticket purchases. In each such case, service fees charged for the purchase of tickets may be retained by Belly Up, Aspen. We reserve the right to change the delivery method from Digital Delivery to Will Call for release on the night of the show.
Supporting acts may be changed or cancelled without notice, however such change or cancellation is not grounds for refunds.
The Floozies
Just outside the jazz mecca of Kansas City springs liberal oasis Lawrence, Kansas—separated only by the waves of wheat from the epicenter of the electronic music revolution in Colorado. From Lawrence, it would logically follow that an act could rise to prominence fueled by the swing of Basie, the birth of Charlie Parker's bebop, and the wild frontier of electronica. Born in funk and bred in the digital age, live electronic duo The Floozies have burst onto the scene at a time when the industry needed them the most.

Brothers Matt and Mark Hill share the stage just as easily as they share a musical brain. Without a setlist, and without a word between them, Matt's guitar is in lockstep with the thud of Mark's kick. Endless looping and production builds the raw scenery upon which palm muted chugs, searing solos, and wobbling bass paint their dazzling array of colors.

Well versed in everything from Chris Cornell to Kavinsky, the sonic vision shared by the brothers eschews contemporary electronic influences in favor of broader, deeper tastes including Zapp & Roger, Lettuce, and Amon Tobin. That wide-angle view of a century of popular music allows the Hills to remix Toto and The Dead—in the music you can hear reverence for the giants of the past, all the while producing wildly futuristic tunes for the masses to dig now.

When the pendulum swung as far as it could away from live instrumentation to laptops, The Floozies rose up to the challenge, swinging as hard as they could in the other direction with neck-snapping, knee-breaking funk so dirty that the gatekeepers stood up, wiped themselves off, and took notice. A bold live show full of sonic exploration and unbreakably deep pocket grooves has landed the brothers on stage with luminaries of the jam world Umphrey's McGee as readily as electronic elites STS9 and Big Gigantic. Sold out shows across the Country, huge festival appearances at Bonnaroo, Electric Forest, High Sierra, Summercamp, Wakarusa, Camp Bisco, Summerset, Bumbershoot, and headlining Red Rocks shows have continued to cement the duo's ascent.
The Floozies are bringing the funk back, and they're right on time.

Check out the latest from the "undisputed kings of electro funk", 2017 album Funk Jesus.

Mystic Grizzly
Mystic Grizzly,AKA Jordan Hoffman, is a 22-year old musician, DJ, and electronic music producer from Fort Lauderdale, Florida. He has been a guitar player for 10+ years and also plays percussion, harmonica, and ukulele. He has played in several bands throughout his lifetime and has now taken his musical expertise and passion to another level, focusing his energy and efforts on creating extremely experimental electronic music.

He specializes in raunchy psychedelic grime, psybass, glitch hop, space bass, and tribal beats. Understanding the true spiritual effect and impact music has on humans and on life in general, he has shifted his intention to love and crafts his sounds and songs to give his listeners a one of a kind, mystical experience.

He dives deep within himself to extract the most raw, mind bending, brain warping, psychedelic sounds complimented perfectly with ambient melodies and earthy, tribal atmospheres. He has produced and mastered over 100 original songs and usually plays an all original set. He has a calm, humble appearance but an animalistic spirit. His out-of-this-world dancefloor bangers always leaves his crowds howling at the moon. An artist on the move, he is a rising star in the bass music scene, growing in popularity and demand.