The New Mastersounds
with Opening Act TBA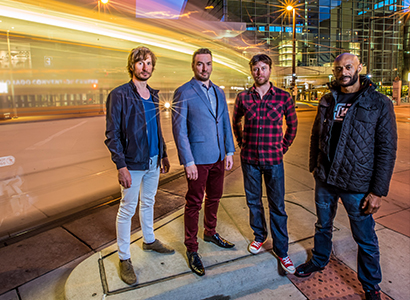 The New Mastersounds
with Opening Act TBA
| | | |
| --- | --- | --- |
| Doors: | | 8:00 pm |
| Start: | | 8:30 pm |
| Age: | | All ages |
| Price: | | $20 GA / $35 Reserved |
Buy Tickets
Event Information
Genre: Funk, Soul-Jazz
ALL AGES: 18+ with valid photo ID.
Under 18 must be accompanied by a parent or guardian.
Reserved seating is available for $35 and guarantees a seat in the reserved section. If necessary groups will be paired together at tables. Seating is based on time of purchase and the configuration of groups.
There is a 6-ticket limit for general admission OR a 6-ticket limit for reserved per customer, credit card or email address. Orders exceeding these limits, or any tickets purchased for resale, may have a portion or all of their orders cancelled without notice.
The New Mastersounds
From their inception nearly two decades ago in Leeds, UK, The New Mastersounds have wholeheartedly embraced the "old school" label—their sound rooted deeply in those classic soul jazz, boogaloo and funk albums on labels such as Blue Note and Prestige by artists like Wes Montgomery, Jimmy Smith, Jimmy McGriff and Lou Donaldson. The New Mastersounds' latest LP, The Nashville Session, takes that devotion one step further by recording in the same tradition that many of those rare groove gems were made.

The Nashville Session, a 10-track collection cut at Welcome To 1979 studio in Nashville, was multi-tracked live onto one-inch tape in a single evening session in front of a small studio audience. Following the performance the recording was mixed down to quarter-inch stereo and cut direct to vinyl lacquers. There are no guests and no overdubs, just bass, drums, guitar and organ—essentially pure New Mastersounds. Hitting the studio at the tail end of their Fall and Winter 2015 cross-country U.S. tour, the band was razor sharp and vise tight. They selected material to record from across their 16-plus year career and ten studio albums. The lone exception being their take on legendary jazz guitarist Grant Green's arrangement of James Brown's "In The Middle."

"We made the decision to record in this context because our older tunes have been evolving over a decade and a half of live presentation.. Once-spontaneous improvised sections have gradually become fixed into the live arrangements. Much of the change has come about since organist Joe Tatton joined the band in 2007," explains drummer Simon Allen. "It was also the perfect time to capture the cheeky, spontaneous and confident energy of a live show at the point—straight off of tour—when the band was at the top of its game. As lovers of '60s and '70s funk and soul jazz, we have never much enjoyed the sound of modern digital live recordings. Somehow the balance of frequencies such recordings deliver is never what we crave; our music just makes the most sense to our ears and to our feet when everything is crunched onto tape, exactly the way the music that first influenced us was recorded."

The Nashville Session will be released exclusively on vinyl via a limited edition 1000-piece pressing on Royal Potato Family and will not be available in any other formats upon initial release. Top to bottom gritty, greasy and funky to the bone, the collection presents The New Mastersounds at their finest—utterly unadulterated by modern digital technology, full-on analog and unapologetically doing it old school.